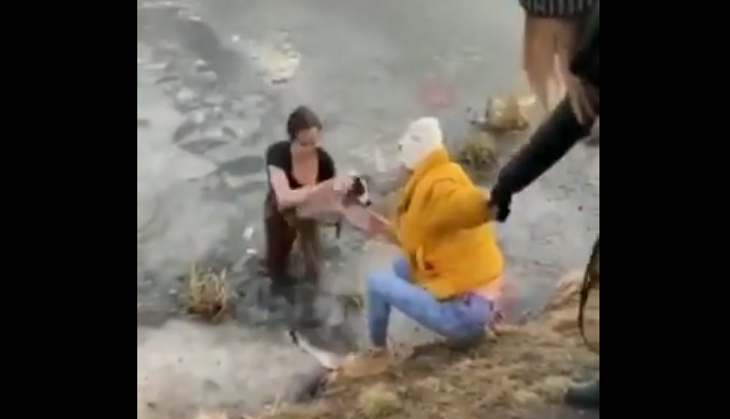 There are only a few people who risk their lives for others and such people should be awarded for their bravery. One such video has gone viral on social media in which a woman can be seen rescuing a dog by putting her life in danger.
The viral video shows how a woman is risking her life to rescue a dog from an icy pond. The clip was shared by Indian Forest Service Officer Susanta Nanda on her Twitter handle.
She captioned the video: "A simple act of kindness towards a single animal may not mean anything to all creatures, but will mean everything to one. A woman cuts through ice like butter to save a dog. Compassion comes calling."
Watch the brave act of woman:
In the above video, the woman jumped into the pond after noticing the dog struggling in the water. Without having a scintilla of fear, she managed to save the dog with the help of other women who formed a human chain.
The 34-second viral video has brought the Internet by storm as over 9,000 people have viewed it and also received over 1K likes. Netizens have applauded the woman and also called her a brave woman.
Many people also thanked IFS officer Susanta for sharing such a heartwarming video.
What do you think about this viral video? Leave your comment in our comment section...
Also Read: Wow! Australian dog turns gym trainer in this viral video; netizens love his leadership skills