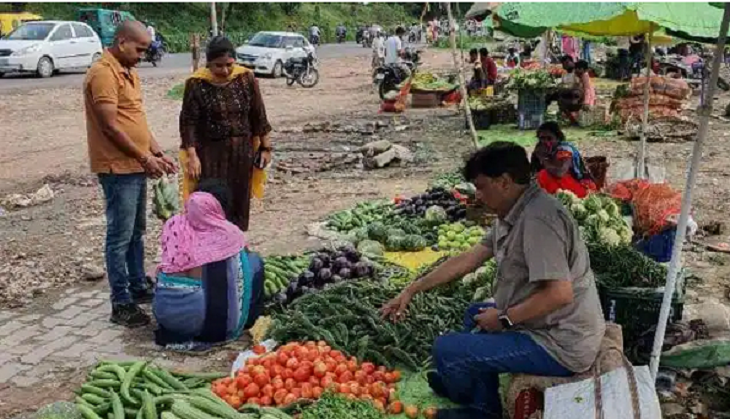 UP IAS Akhilesh Mishra viral picture (Photo Credit: Facebook )
An IAS officer from Uttar Pradesh is hitting headlines after his picture selling vegetables has gone viral on social media. In the picture, IAS officer Akhilesh Mishra, special secretary in the UP transport department can be seen sitting at a roadside vegetable stall.
As the picture went viral on social media, netizens started wondering if the picture is real or fake.
After his picture has gone viral on Internet, the IAS officer himself came forward to clarify the reality behind the picture.
Also Read: Ceiling fan falls on family having dinner at home; what happens next will amuse you!
Sharing the post on Facebook, Mishra revealed that the pictures are real but what is seeing in the picture is not what it looks like.
He wrote in Hindi, "I was on a visit to Prayagraj for official work yesterday. While returning, I stopped at a roadside market looking at the fresh vegetables. In the meantime, an old lady requested me to look after her vegetable shop as her child had gone too far."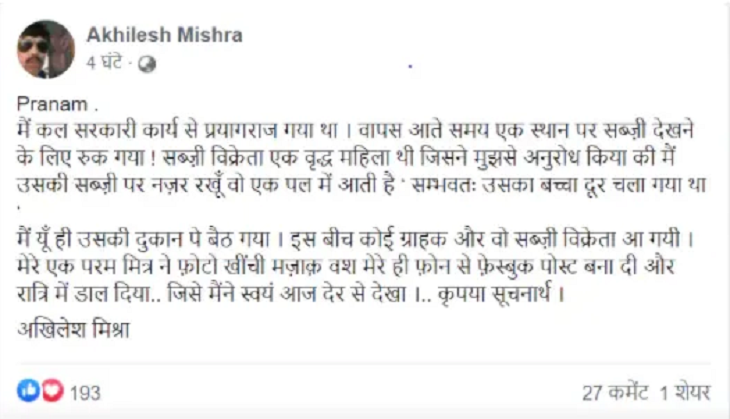 IAS Akhilesh Mishra shared post on Facebook
When he was looking after the shop of the woman and sat down, one of his friends clicked the picture. Mishra further added when he sat down at the shop, a customer and the seller came. During that time, one of his friends clicked his photograph and shared it on Facebook from his phone.
He wrote that "I saw these photos today itself. For your kind information…"
People who say police officers don't have feelings then Akhilesh Mishra is the best example for them.
What do you think about this gesture of the UP IAS officer?
Also Read: Beware! Vendor mixes urine in pani puri water; incident caught on cam