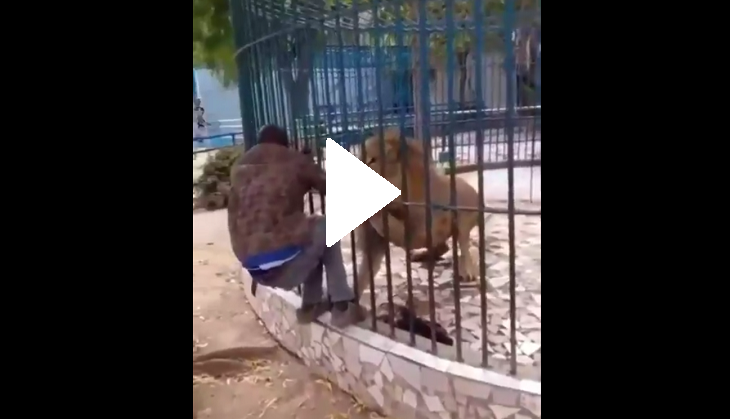 Screenshot from the viral video
A horrifying old visual of a lion attacking man has again gone viral on social media. In the video, the lion bites the man's hand.
The incident took place at Park Hann, a zoo in Dakar, Senegal. The old footage shows the zoo worker trying to pet the lion and then what happens next is really dangerous.
Also Read: Scary! Python vomits out dog after devouring it; video will give you goosebumps
The video was again surfaced on the Internet and was shared on Twitter.
In the viral clip, as the man takes his hand inside the lion's cage through the bars, it bites off his hand and traps it in its mouth.
However, the man screams as the lion locks his jaws around his hand in a menacing grip.
Visitors are also starting to panic in the background and some people also throw stones at the lion so that it could free the man.
Also Read: Man inserts 20 cm eel into rectum; what happens next will shock you!
In an attempt to save himself from the lion, the man hits the wild animal's head with his left hand, and then he could be able to release his hand from the lion's jaw.
Check out the viral video:
استفزاز الاسد عواقبه وخيمه ..👇 pic.twitter.com/pmZzuxSsj8

— 🔥 عالم الإفتراس 🔥 (@5_Adel_5) June 3, 2021


According to dailymail.co.uk, the man in the video was identified as Abdoulaye Wade, who is a zoo worker. The video also shows him provoking the lion before the attack.
Reportedly, the incident took place on February 23, 2020, and the terrifying video is still circulating on social media.
Also Read: Petrifying pic of king cobra eating cobra goes viral; here's how IFS officer reacted