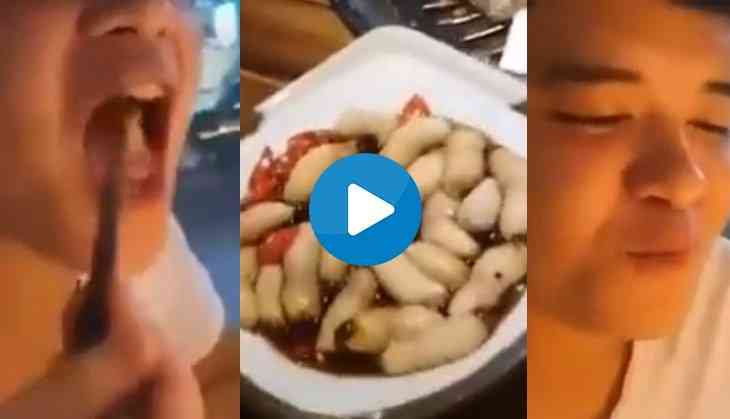 A perturbing video has surfaced the Internet in which a man can be seen eating worms wriggling on the plate. The video has come to light when the world is worried over the novel coronavirus (COVID19).
The video was shared by The Sun on Twitter, in which a young man from Hanoi, Vietnam, is sitting in a restaurant. Waiter serves him the plate full of wriggling worms, which he started eating slowly-slowly.
Originally, the video was recorded in 2018 and it has been re-shared on social media following the worldwide deadly virus fear.
This is one of the Vietnamese delicacy called Coconut worms, which is yellow Larva.
The video shared with a caption which reads, "Would you ever eat something that's still moving on the plate?"
Also Read: Coronavirus: Italy reports first death from deadly virus
The man in white t-shirt and holding chopsticks in his hands, and then picks up the moving worms out of the bowl and puts it in his mouth. He slowly starts chewing the food.
Check what happen next:
Would you ever eat something that's still moving on the plate? pic.twitter.com/kBdetGBYjx

— The Sun (@TheSun) February 21, 2020
However, netizens left scared after seeing the video.
Check out some hilarious reactions:
This is how viruses start

— 🅜🅘🅚🅔🇬🇧 (@day_one_noob) February 21, 2020
Grub 🤢

— Rubber Ducky (@RubberD01) February 22, 2020
I know it's a Chinese that will do that. That's why they got the c virus

— paulrunz (@paulrunz33) February 21, 2020
thats disgusting.... but weve all seen bear gylls eat that shit

— kevin picton (@kevinpicton2) February 21, 2020
Meanwhile, over 2000 people have lost their lives in the coronavirus outbreak while around 76,000 have been infected with the deadly virus.
Also Read: Moscow: Man arrested for behaving like coronavirus victim in metro