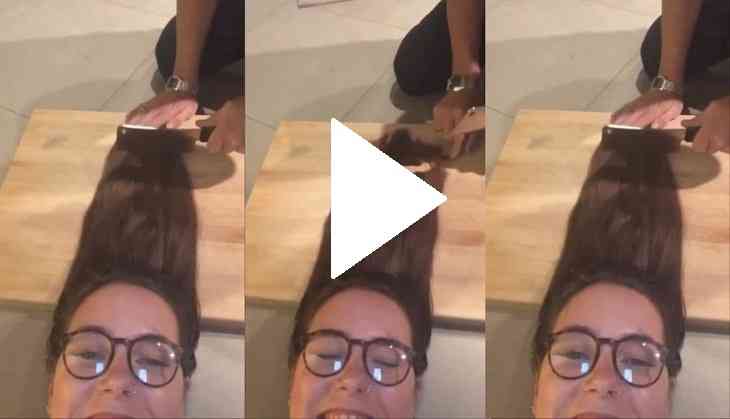 Girl gets hair cut with a meat knife
Internet is full of various bizarre hair-cutting videos that have amused netizens. Once again, a video of a weird hair-cutting technique has gone viral on social media. In the clip, a girl is seen getting her haircut in a horrifying way. If you are looking for your daily dose of bizarre content then must watch this video.
In the short clip, the girl can be seen her hair spread out on the chopping board. Moments later, a boy finds a terrifying trick to cut the hair of the girl. He uses a meat knife to cut the hair of the girl.
He is seen chopping the hair with the knife in a scary manner. He tried his level best to give the perfect hairstyle in this terrifying manner.
Also Read: Hairdresser gets angry after woman keeps talking to her friend; what he does next will shock you!
In the video, the girl can be heard saying, "Oh my God, this is really happening."
To save the moment, the girl is seen recording the video till the hair got chopped in this outlandish way.
Watch video:
Since the video is being shared on social media, it has garnered over 4 lakh views. The viral video was shared on an Instagram page called BViral along with a caption, "Girl gets a hair cut with a knife"
Meanwhile, netizens left in shock after watching the way man cut the hair of the girl with the knife.
Also Read: OMG! Woman's hair catches fire while working in kitchen; video will give you chills