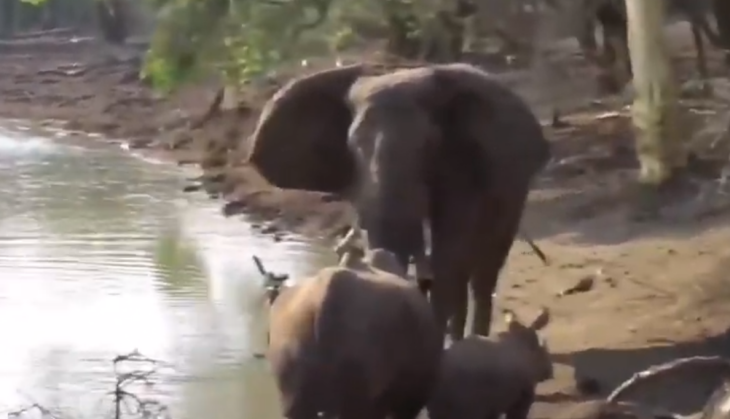 Elephant Rhino clash (Twitter)
Yes, elephants demand respect as being one of the strongest and mightiest animals on the earth. But this is not always the case. In this video, a rhino decides not to let the elephant pass and blocks the way near a lake. It appears the elephant wanted to approach the area from where it was easy to drink water. But for some reason, the rhino is refusing to let the elephant pass.
Strangely, a rhino baby is present there and not a bit scared. Differences apart, the elephant never hurts the baby rhino. The clash remained confined between the titans only.
Just to avoid the clash further escalating, the elephant tries to scare the rhino away by swinging the trunk in the air, and by charing towards the rhino, but nothing deters the rhino.
Exasperated, the elephant retreats but the rhino remains attentive.
Rightly so, as the elephant returns with two other elephants to assert the right to pass and drink water from the lake. But oh boy! the rhino faces all the elephants with equal ease.
September 15, 2021
The video ends where the elephants and the rhino are locked horns over the right to access to water.
Also Read:
Hyena attacks 70-year-old man; horrifying video goes viral
Leopard Not a Loser: Frog-leopard encounter goes viral, Twitterati left confused!