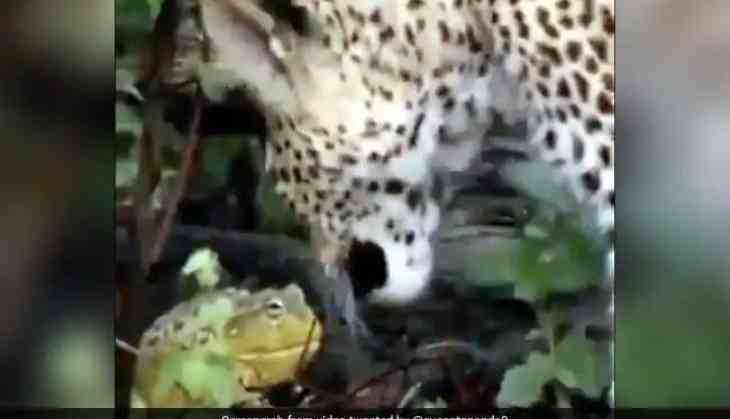 Leopard Frog encounter (Twitter)
A frog is no match to a leopard. No comparison between the two species exists as far as physical power is concerned. But this video makes you think twice before you decide who is the boss here.
An encounter between a leopard and frog is getting the attention of Twitterati. They simply can't stop praising the frog as it not only faces the leopard bravely but even launches a counterattack to scare away the leopard.
The leopard keeps smelling the frog. It softly touches the frog as if trying to figure out the creature. Meanwhile, the frog keeps a brave face and even opens its mouth wide in a threatening way, making all the signals that the leopard is up against a fierce fighter.
Times are changing.....
Unbelievable fight between a frog & leopard. And see who wins😊

🎬Science Girl pic.twitter.com/g8kqnBLDcr

— Susanta Nanda IFS (@susantananda3) May 21, 2020
After this brief encounter, the leopard leaves. Some Twitterati term it a big win for the frog as "it scared the leopard away". But is it the case?
A few Twitterati have tried to make sense of all this. "The leopard is young and trying to understand the environment around, the frog is a strange living creature for it," reacted one reader.
Another commented: Frogs are not in the leopard's food chain. Also, some frogs are poisonous and leopards stay away from frogs.
Well, the leopard is not a loser here. But the frog sure appears to be a winner.
What is your take? The discussion continues...