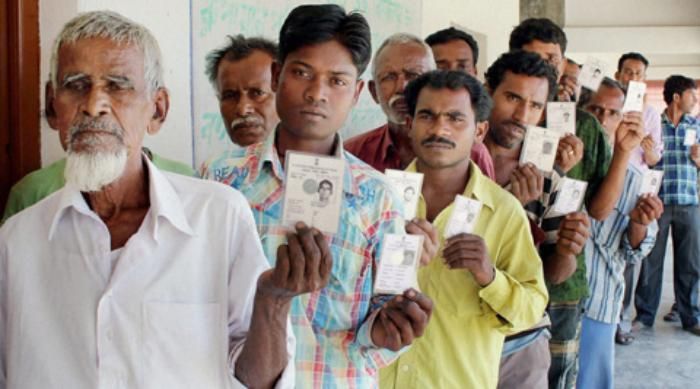 More than 1.99 crore electorates - voting across 24,889 polling booths - will seal the fate of 1,064 candidates in 65 constituencies spread over 14 districts in the first phase of the 126-seat Assam assembly polls on Monday.
Of the total 1,064 candidates, 87 are women and 122 are below 40-years of age, while 39 are below 30.
Of the total 1,064 candidates, the ruling Congress has fielded 122 candidates, BJP 89, AGP 30, AIUDF 74, BPF 13, CPI 15, CPI (M) 19, others 205, and Independents 497; whereas of the total 19,98,4486 electorates, 1,03,07,219 are male, 96,39,763 female, 27 others and 37,477 are service electors.
According to the Election Commission, the second phase of voting in 51 constituencies will take place on 11 April, while the votes will be counted and results will be declared on 19 May for all the 126 seats.
Incumbent Chief Minister Tarun Gogoi of the Congress and Bharatiya Janata Party's chief ministerial candidate Sarbananda Sonowal are two major politicians in the fray from Titabar and Majuli (ST) constituencies, respectively in this phase.
The tenure of incumbent Congress government headed by Chief Minister Tarun Gogoi will end in June. While the ruling Congress faces a tough task of maintain its winning streak, whereas the BJP is making an all-out effort to oust the Taroon Gogoi government. In such a scenario, regional parties can be a game changer in the state. Though the Congress has not entered into a formal alliance with any party but it has been reported that it has reached some sort of understanding with the AIUDF, an important regional party. The BJP, which is banking on Prime Minister Narendra Modi's development agenda, has already formed a crucial alliance with the Bodoland People's Front (BPF).
West Bengal
The first phase of polling for the 294-seat West Bengal assembly will take place in 18 constituencies spread over Paschim Medinipur, Purulia and Bankura districts on Monday amid tight security - including 676 micro-observers who have been deputed to keep a tab on violations.
As most parts of about 13 of the 18 constituencies are in Left Wing Extremist (LWE)-affected areas, the Commission has put up very tight security measures. Out of 350 companies of the Central security forces deployed in three districts, 118 have been deputed in the core area of Jangalmahal.
Besides, two helicopters are making sorties to providing aerial security cover and an air ambulance has been kept ready as a standby measure, while Quick Response Security teams have also been stationed in vulnerable pockets.
Voters turnout in West Bengal in the first three hours of polling is 45 per cent. While the same for Assam is 23 per cent.
-- ANI