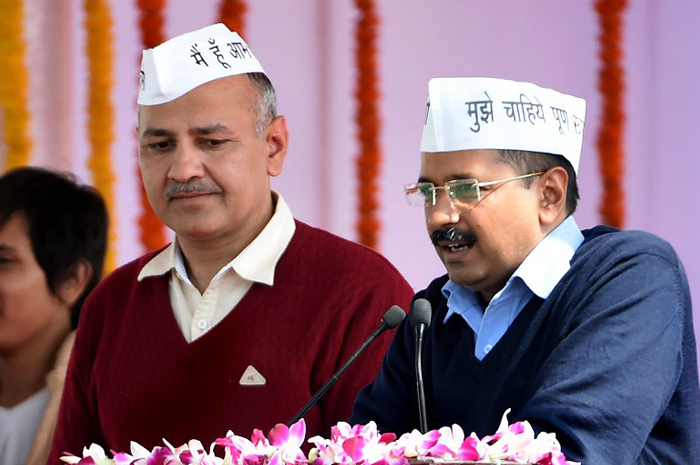 The occasion
Arvind Kejriwal\'s AAP government in Delhi celebrates one year on 14 February
Congress\'s Ajay Maken feels there\'s nothing to celebrate for the people of Delhi
The disaster
Maken feels the Kejriwal govt has negatively affected the entire administration of Delhi
In particular, he says the sectors that have suffered are infrastructure, health and education
More in the story
Maken\'s reading of the Lokpal and Kejriwal\'s constant demand for Delhi\'s statehood
How revenue collection is set to fall to an all-time low
(As the Arvind Kejriwal government completes a year, Catch asked believers, former friends, and political opponents for an assessment of the Aam Aadmi Party. Here, Ajay Maken, who was the Congress chief ministerial candidate in Delhi, files his report card. It is a measure of their bitter rivalry, perhaps, that he refuses to give #EkSaalKejriwal any pass marks at all.)
Arvind Kejriwal's one-year tenure has been a setback of historic proportions for the governance and administration of Delhi. Till now, the AAP government has been a complete eyewash, with sectors like infrastructure, health and education suffering major blows.
Read- #EkSaalKejriwal: We have achieved some things. Many more are left
Having secured votes in the name of Jan Lokpal and pledging to defy the VIP culture, the government has enacted the weakest Lokpal law, hiked MLAs' salaries by 400%, and in the absence of any concrete achievements, splurged public money on ads to register its presence among the people.
Its constant tussles with the Centre have also made the people of Delhi suffer.
Lokpal or Jokepal?
AAP has diluted the Lokpal law in many ways. Among them, the law passed by the Delhi Assembly now gives the ruling party the power to select the Investigating Officer in any corruption case.
AAP has diluted the Lokpal law in many ways. The institution can't work fearlessly and independently
Moreover, special powers have been given to ruling MLAs, who can remove an incumbent Lokpal by passing a motion in the Assembly.
Can an institution work fearlessly and independently in these circumstances? There's no doubt that Prashant Bhushan and Yogendra Yadav were sacked for pointing out exactly this.
Tainted ministers and MLAs
First, due to public pressure and the intervention of the Delhi High Court, Kejriwal was forced to remove Jitender Tomar - the law minister with a fake degree.
Then, recently, we released a series of clips showing food minister Imran Hussain's family members collecting bribes to allow illegal construction. The minister's aide claims that crores were paid to the party 'high command' to get the ministerial berth in the first place!
Also read- AAP's Sanjay Singh: We all accept Kejriwal's leadership. What's wrong with that?
Several AAP MLAs have been involved in serious offences, and cases have been filed against them.
But the CM remains silent, and the toothless Lokpal cannot take action. The party supremo didn't even hesitate to remove the internal Lokpal of the party!
Historic downfall in revenue collection
Delhi has always been a revenue-surplus state. However, thanks to AAP's non-seriousness, VAT collection in Delhi is set to be at its lowest-ever mark. We will release documents in support of this at the time of the budget in a few days.
Health hazards
Residents of Delhi had to pay the price for the government's unpreparedness in the health sector. There were an unprecedented number of dengue and swine flu cases last year
A party which as an advertisement budget of Rs 526 crore failed to issue any awareness ads about dengue during the monsoons. The first ad was issued after we approached the High Court seeking its intervention in controlling the dengue crisis.
AAP's action plan promised 900 new mohalla clinics. Only two have been opened so far
AAP's 70-point action plan promised 900 new primary health centres, or mohalla clinics. On average, this would mean 180 clinics every year. But in reality, only two mohalla clinics have been opened, of which one is already on the verge of being shut down.
Education stalled
Let's go back to AAP's action plan. For the education sector, it said: "AAP will build 500 new schools with a special focus on secondary and senior secondary schools" and "will open 20 new colleges under Delhi administration".
This means an average of 100 schools and four colleges were to be opened each year. This promise remains a non-starter.
Water and electricity tariffs
Subsidising electricity and water was supposed to be a temporary arrangement. Kejriwal vowed to decrease tariffs permanently by fixing transmission efficiency, generating cheaper electricity and providing a leak-proof water distribution system to all households.
Read more- AAP experiment worked, but at the cost of the movement: Medha Patkar on #EkSaalKejriwal
But even after one whole year, no steps have been taken in this direction. As a result, Rs 2,000 crore of the taxpayers' money is being used per year to extend the subsidy.
As mentioned above, Delhi will see an unprecedented revenue downfall. So, the government must ask itself, how long can this temporary arrangement continue? When will they actually reduce the tariff?
Slum rehabilitation
Slum dwellers staunchly supported the Aam Aadmi Party during the Delhi polls. In fact, the 70-point agenda appeared quite promising to them.
AAP said: "Slum dwellers will be provided plots or flats in the same location as the existing slums."
When the Shakur Basti slum was demolished, Kejriwal even hesitated to visit the area
Disappointingly, not a single slum dweller has been rehabilitated so far. In fact, when the Shakur Basti slum was demolished, Kejriwal even hesitated to visit the area after his colleague, Satyender Jain, was heckled by the agitated crowd.
Ultimately, the High Court had to intervene to provide the relief. And yet, the Delhi administration still does not have a plan for their rehabilitation.
Statehood for Delhi
Kejriwal likes to claim that all the problems in Delhi arise due to one primary reason - that Delhi is not a full state.
We think there are advantages to being the national capital, and even in the present situation, one can govern efficiently, provided that there is a will to do so. The Congress worked with the same set-up and was elected to power for three consecutive terms!
Also read- AAP occupies exact space it promised to cleanse: Hegde on #EkSaalKejriwal
But given Kejriwal's stand on the issue, it is surprising that the Delhi government hasn't even bothered to give an official representation to the Centre demanding full statehood.
The VVIP cabinet
In a dramatic exercise prior to the elections, Kejriwal distributed Affidavits, stating on oath that if elected:
"I will not take a car with a red beacon";
"I will not take a big bungalow";
"I will not take security".
However, the reality is that Kejriwal enjoys Z-plus security and travels with a convoy of four cars full of security personnel.
The Delhi govt hasn't even given an official representation to the Centre demanding full statehood
The CM has even got two bungalows on the posh Flagstaff Road as government accommodation for himself.
Similarly, deputy CM Manish Sisodia is presently living in the house where former CM Sheila Dikshit use to reside.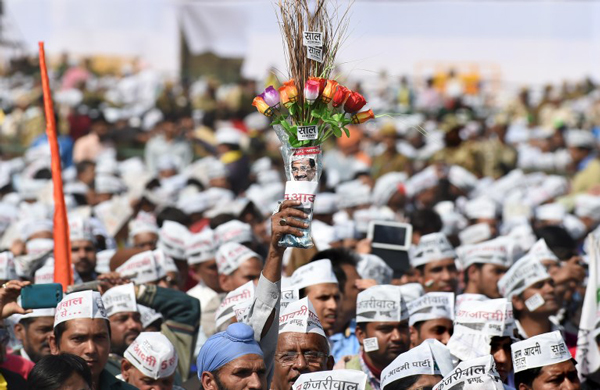 Corresponding benefits have also been given to all MLAs. Their salaries have been increased by 400% to Rs 32 lakh per year.
While the Kejriwal government has left no stone unturned to ensure a comfortable life for their own MLAs and ministers, the poor rag-pickers have had to protest for days to even get their due salaries.
Beginning of the end
The list of Kejriwal's failures and hypocrisy is unending. But the people of Delhi are alert, and have noted AAP's doublespeak. Their immense greed for power stands exposed, and the forthcoming municipal elections will be the beginning of Kejriwal's demise.
(The views expressed here are personal and do not necessarily reflect those of the organisation.)
Edited by Shreyas Sharma
More in Catch:
High command, low tolerance: how AAP is failing itself
#JNUcrackdown redraws battle lines: it's the right vs the rest now
How to Be Single review: funny, enjoyable and messy in an all too real way
Prakash Karat: "Police action in JNU is a planned move by RSS & BJP"