AAP occupies exact space it promised to cleanse: Hegde on #EkSaalKejriwal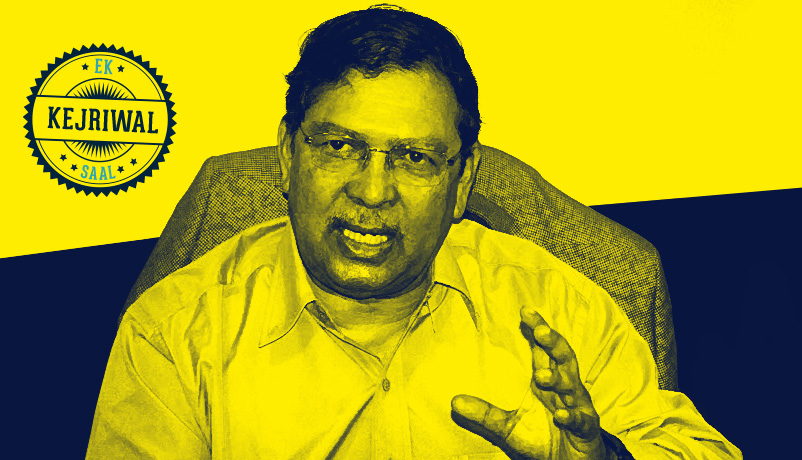 The disappointment
Justice N Santosh Hegde was part of India Against Corruption along with Anna Hazare and Arvind Kejriwal
He parted ways when Kejriwal decided to form a political party
He feels that AAP is no different from mainstream parties
As the AAP government in Delhi completes one year, Catch speaks to some of the close associates of the anti-corruption movement.
N Santosh Hegde, is a retired Supreme Court judge and a former solicitor general of India. From 2006-11 he served as the Lokayukta of Karnataka and unearthed several scams including the infamous Bellary illegal mining scam.
Read- High command, low tolerance: how AAP is failing itself
In an interview to Catch, Hegde says that as a party AAP seems no different from other political parties. They have ended up occupying the very space they had promised to cleanse. He also talks about how he was shocked with Kejriwal's decision to form a political party out of IAC.
Here are excerpts from the interview:
Anna Hazare and you were initially sceptical of Arvind Kejriwal's decision to float a party. Looking at how the party has shaped now, do you think Kejriwal took the momentum gained by IAC in the right direction?
As far as I am concerned, India Against Corruption was formed by Annaji primarily to fight corruption and for the formation of a strong Lokpal at the center. Politics was far from the minds of IAC's members.
I don't know of many retired Supreme Court judges who joined an anti-corruption movement only to immerse themselves into politics. That's not what I came here for.
A minister caught accepting a bribe, MLA accused of domestic violence, how is AAP any different?
It was with that belief that I joined IAC, and I am sure that's what Annaji also believed in. We were not aware of the political ambitions of some of the members of IAC.
Formation of AAP was shock to many members of IAC, including myself.
Anna was not alone in being against the formation of a political party out of IAC, there were many other people in IAC who thought that way. The main target of IAC was the political class because that's where most of the corruption was believed to be going on.
In this context I think dragging IAC towards forming a political party was not correct.
Also read: Former Delhi CM Sheila Dikshit endorses Arvind Kejriwal's odd-even formula, but has a few suggestions
In your opinion, how different or similar is the AAP as a party, or Kejriwal as a political leader, compared to the other mainstream political parties and leaders? For instance, that just as BJP culled away their senior leadership, AAP unceremoniously shunned leaders like Yogendra Yadav and Prashant Bhushan.
I don't think it's any different. It has all the wrongs of other political including these misdeeds.
From what I have read in the media, one minister was caught in a sting operation accepting bribe, another minister is facing domestic violence charges, yet another MLA is charged with trespassing into private property and vandalising it, and one of their MLAs has been charged for threatening a public servant.
If you look at these developments which have happened in such short time, I don't find any difference between AAP and the other mainstream parties.
Could you please tell us a few areas where you think AAP has done well (his experiments with odd even could be an example) and some instances where its government performed below par.
Their manifesto declared them to be fighting against corruption which is very good.Their fight against pollution is good but then there with that policy as it stands in its present form. Like what will the car owners who've employed full time drivers do? Will they pay their drivers only 15 days' salary?
Formation of AAP was a shock to many members of India Against Corruption, including myself.
Kejriwal has been criticised, quite like Narendra Modi, for building the whole party around himself. While this may be objectionable as an idea, would you agree that practically it's not a bad policy?
Is the idea of a benevolent dictator better than the idea of a democracy?
Kejriwal is often seen to be pitching himself directly against Modi, as a Prime Ministerial by constantly taking on the centre. Do you think he's a worthy contender?
He will have to prove his mettle first as a Chief Minister.
Read more: Six reasons why Nitish Kumar wants Arvind Kejriwal by his side
Do you think AAP has stuck to its founding principles of anti-corruption and clear governance till now, and do you see it developing into a full fledged political force with its own ideology?
I don't think a clear picture has emerged so far. But his party has the capacity.
Finally, who do you think has performed better so far, Modi at the centre or Kejriwal in Delhi?
Let's give them both some more time.
Edited by Aditya Menon
More in Catch:
The horror of #FGM: Bohra community shames women by cutting genitals
Homes or hell holes: hard questions after a chilling juvenile double murder
#NotesForMrJaitley 2: Let Raghuram Rajan clean up the bad loan mess
Mr Badal's drug war: Punjab has 70% addiction. He says it's 0.7%