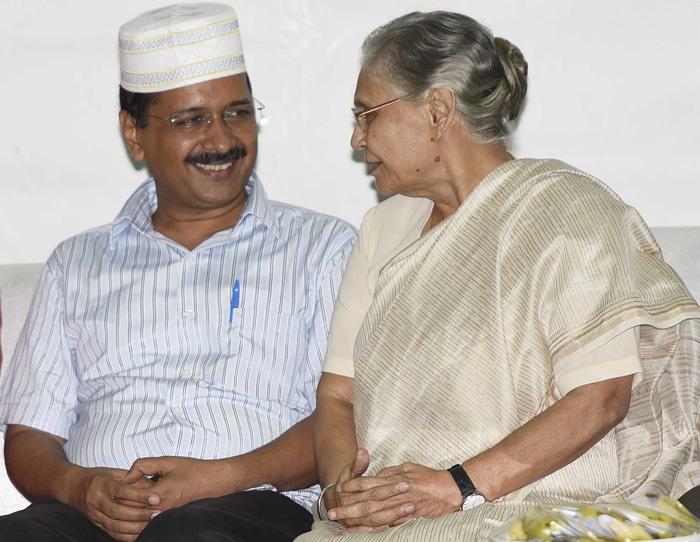 Former Delhi Chief Minister Sheila Dikshit is all praises for the current CM\'s plans to combat pollution in the city.
But while she applauds Kejriwal\'s efforts, she also points out what she would have done had she been in power.
And those measures would have been...
The odd-even plan for vehicles from 1 January, 2016, formulated by the Delhi government might have got a green signal from the apex court and the central government but for the Capital's common man, it is quite an oxymoron.
When Sheila Dikshit was Delhi Chief Minister between 1998 and 2013, she implemented several measures including CNG for public transport, metro extension and a cess on diesel.
Catch spoke to the former Delhi Chief Minister on the viability of the odd-even formula and whether this would have been her choice had she been in power.
SR- You have been credited with making Delhi greener. Since your departure as Delhi CM, what has gone so wrong that the pollution levels have soared to these levels?
SD- After coming to power, the Aam Aadmi Party had promised to add around 5,000 new buses but the city commuters' wait for a bus is nowhere near getting shorter. The Delhi Transport Corporation is still waiting to acquire to more buses. Moreover, nothing substantial has been done to address the connectivity woes.
This in turn is really inconvenient as the government is planning to increase the dependency on public transport.
There has been unprecedented construction across the Capital but the government has not chalked out a plan to monitor whether these sites have been operating according to the environmental norms.
Bicycles contribute to about 4% of the city's total number of vehicles. In Delhi, there are plans and laws to protect cyclists and their space but the implementation is clearly lacking. We did create well-defined lanes for cyclists during the CWG games but there has been a lack of effort to free them of encroachments. Plus there are no well-defined lanes for managing the high density of traffic.
Burning of paddy in the neighboring states is also responsible. Had this been planned, or had there been an order to not burn but to bury the farm waste, the situation would have been better.
SR- What do you think about the odd-even formula for vehicles? Are people ready for such radical measures?
SD- I think it is great idea and I wish the AAP government success for its implementation. But at the same time, we should understand that such decisions cannot be taken overnight. The government's lackadaisical planning was evident when they mentioned the details after the plan was announced.
Moreover, such steps need a considerable level of commitment from the common man. The government should strike a balance between stricter rules and public convenience if they want this formula to work.
Another important factor is the cooperation between the authorities. The present government is not on very favorable terms with the Lieutenant Governor and the police department, which in turn might effect future planning.
SR- What would you have done if you were in authority?
SD- Considering the city is such a high risk, we would have induced more resources in awareness campaigns at the initial level. Beijing sounded a red alert when the pollution levels soared, but Delhi didn't do anything of the sort. We would have also rolled out more campaigns for promoting public transport and car pooling.
We would have looked into the maintenance of air pollutant machines which are already installed in the capital but have not been monitored regularly.
We would have at least rolled out as many buses as possible if they are planning to implement the odd/even formula from 1 January, 2016.
There should be a more holistic approach towards battling pollution. The government should conduct a detailed study into the areas which are severely affected and need more attention.
Also read: What Bogota, Mexico City, Beijing's experiences tell us about Delhi's even-odd policy