AAP experiment worked, but at the cost of the movement: Medha Patkar on #EkSaalKejriwal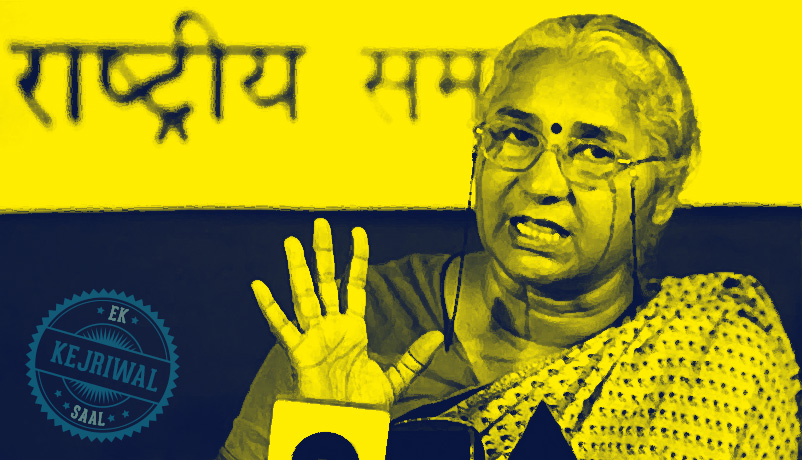 The split
AAP govt in Delhi is completing 1 year. But it\'s tenure has had its share of controversies
Activist Medha Patkar quit AAP last year. Here\'s her take
The assessment
There isn\'t space for democratic discussion in AAP
The party has no core ideology. It takes stands on the basis of issues
More in the story
What made Patkar quit AAP?
Patkar\'s assessment of Arvind Kejriwal
Her take on the future of AAP
Medha Patkar, known for spearheading the Narmada Bachao Andolan, is a well known social activist. She is also convenor of the National Alliance of People's Movements (NAPM) that joined forces with Arvind Kejriwal under the India Against Corruption movement. In January 2014, Medha Patkar joined the Aam Aadmi Party and also contested parliamentary elections from the Mumbai North East constituency. She lost the election and after some time, withdrew her support from the party.
Also read - AAP occupies exact space it promised to cleanse: Hegde on #EkSaalKejriwal
In a conversation with Catch, she dwells on her decision to quit AAP and the current state of affairs in the party. Underlining the crucial difference between "movement politics" and "electoral politics", Patkar feels the moral downfall of the AAP started when clear ideological stands on people's concerns were trumped by issue based politics.
Some excerpts:
Why did you divorce your association with AAP?
Many believe that electoral politics cannot serve the people's agenda the way movements can. We believe in morality of a kind. We don't want to indulge in processes that are fraudulent. Electoral reforms in this country, right from the Representation of People's Act 1961, haven't taken place the way they ought to have. Unless that happens, and unless the code of conduct can be forcefully enforced-which we have been battling for-electoral politics is not the answer for us.
Not that electoral politics can be ignored. But there has to be a force outside the parliamentary forum- the people's forum.
That's what we wanted to achieve even when we joined AAP. But we saw that there was no such possibility, and thus we had to leave. Further, with events such as the throwing out of Prashant Bhushan and Yogendra Yadav, it was obvious that the party lacks democratic space. Hence, we had to leave.
Being in AAP involved too many compromises. Personification of leadership was not possible for us
I think that the political stage is better occupied by those who are engaged in people's movements. Over the years, a number of new laws have come through such movements- land acquisition, Right to Information and Forest Rights Act for instance. These are not gifts by the government of the day but rather a result of peoples' movements. We want to continue in that direction.
I'm not saying we can ignore electoral politics. Even in movement politics, we have to closely monitor electoral politics.
But you did contest the Lok Sabha election on an AAP ticket from Maharashtra?
We went in with the understanding that we could fight for the people's cause through the party. But soon we realised that it was difficult, if not entirely impossible. We saw that it couldn't happen without compromises, which we were not ready to make.
What kind of compromises are you referring to?
Caste arithmetic, a huge publicity campaign that was focused around an individual, for example. Personification of the leadership role was not acceptable to us.
If you look at the past 2 years-all elections have revolved around a single personality. Similarly, even the Narmada Bachao Andolan is centered around your leadership. Don't you think that this is effective in rallying people under one umbrella?
The concept of charismatic leadership exists in Indian society, not only in peoples' movements or electoral politics.
The difference is that in electoral politics you first choose the leader and then try to rally people around. However, in peoples' movements it does often happen that certain faces become associated with the movement. That happens after years of struggle and hard work, not through high command mechanics.
Whether it is Abhay Sahu of POCSO or the Late Sharad Joshi of the farmers' movement, they worked for years to familiarise themselves with the people. They did not have to use money to market themselves - like Rs 21,000 crore put in Narendra Modi's campaign.
You're saying that the IAC movement was appropriated by Kejriwal?
I don't see it as appropriation. Kejriwal and a group of others did provide leadership to the movement. After all, making Anna Hazare the face of the anti-corruption movement was a calculated move. They used Anna's personality to achieve their ends in an effective way.
More than appropriation, my analysis would certainly condemn the hasty turn given to the movement owing to certain political ambitions. I'm not using the word in a negative way. Changing the direction of the movement and switching to electoral politics, seemed an overly bold move. It worked, but at the cost of the movement.
Initially, you supported Kejriwal and his team in their transition from people's movement to active politics?
Initially, I did not support them. I personally advised Anna to think a hundred times about his decision to support Kejriwal. But we also did not denounce it openly at the time. Later we thought that the country was ready to receive for alternative approaches to politics. We decided that this is the time we should take the leap. Later, we realised that it did not go the way we expected. We wanted to fight to win, but not at the cost of our own value system.
In what way did the party's vision clash with your value systems?
Democratic processes were hindered. Due priority was not given to the people's agenda, taking up issues of the downtrodden and promoting simplicity in work and lifestyles. There were a number of such flashpoints.
Those who came from peoples' movements saw no space for themselves -- not even for the senior group of activists. They were not taken into confidence.
Also, due to publicity oriented campaigns, there was little depth in dialogues and debates.
Lack of credibility in AAP's elected representatives is shocking. Take Somnath Bharti for instance
The treatment given to Prashant Bhushan and Yogendra Yadav was not right. Conflicts happen in any human group. But we did not agree with the violent and disregardful way they were thrown out. That was not acceptable. Since they were exposing processes within the party that were wrong or somewhat distorted, they treated in this manner.
The manifesto was written with various inputs with people engaged in movements. People took part in the 31 committees they had formed. There also our experience was that they had compromised on some principles. We would like to see them take clear stands, now that they're in power. Prof Arun Kumar from Jawaharlal Nehru University prepared the draft on our stand on big corporates and industrialisation. It was set aside without much debate. These things were happening even before we came to power. Again on the Jan Lokpal the compromise they made has been exposed by Prashant Bhushan.
And yet, on many people's issues they have taken positions - gender justice, repression of movements, President's Rule in Arunachal Pradesh and so on.
In the past one year, how would you rate AAP's performance in Delhi?
They have done some work. It's a short time for a new party. They're trying. But some of their elected representatives lack credibility - Somnath Bharti and others. This is what happens in electoral politics - it throws up people with dubious background and no commitment.
Also read - High command, low tolerance: how AAP is failing itself
Kejriwal has introduced some risky policy initiatives like the Odd-Even experiment. To this extent, do you think he has the capability to de-link from populism and bring in some revolutionary policies?
He has the capacity to do it. The problem is that the ideas lack depth. Based on my experience, I think he only acts on issues, there is no ideological depth to his actions.
Currently, there seems to be a clear polarisation in society. Some sections fear that communalism is on the rise and the secular fabric is being destroyed. Do you think AAP can pose a real challenge to this? Is Kejriwal a lesser evil or viable alternative in India's electoral politics?
AAP is one option. The other option is to create alliances - of the kind they did in Bihar.
AAP has certainly risen as an alternative force. They did it in a short span of time, which is commendable. But I don't know how far can they go outside Delhi - whether they can be a national challenge.
However, they can't challenge communalism merely through strong words and statements. It requires alternative policy and ideology. That is yet to be seen. How they go about industrialisation and agriculture will define many things. Kejriwal himself could have more of a pro-people approach. AAP is not the only ideal alternative. It is, no doubt, one of the alternatives.
Do you personally wish to enter electoral politics again?
No, I'm not in that mode. I don't think it's the best option for me or NAPM. There will be a lot of opportunities to strengthen movement politics and make interventions - clear, direct and effective. The state has become increasingly repressive. Movements are facing challenges.
Edited by Aditya Menon
More in Catch - Former Delhi CM Sheila Dikshit endorses Arvind Kejriwal's odd-even formula, but has a few suggestions
Six reasons why Nitish Kumar wants Arvind Kejriwal by his side