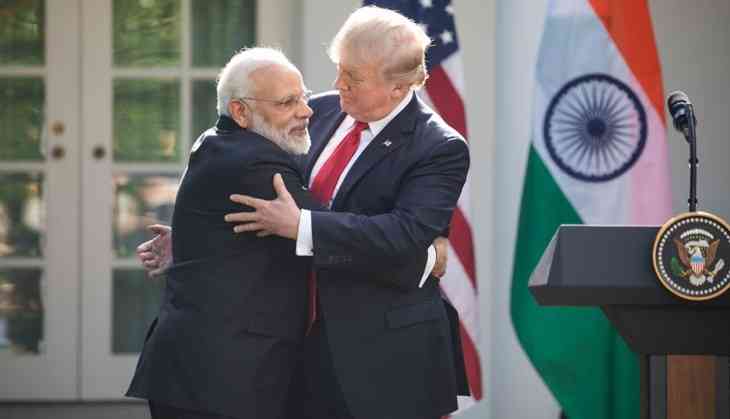 PM Narendra Modi and President Donald Trump
In the meet of Defence ministers, the US has given a strong message to Pakistan to get on board with others who support peace like PM Narendra Modi.
The South Asia peace process has been halted by a continuous terror attacks in the gulf countries and in Pakistan, which are originating from the same host countries. As Pakistan is giving space and its land for some terrorist organizations, which are banned by the US, India and others have penetrated in the country and are networking through the resources of Pakistan.
In a warning to the Islamic country, the US has asserted that Pakistan needs to come on board with all other countries and start the peace process which will eventually eliminate and terminate the terror.
"We're looking for every responsible nation to support peace in the sub-continent and across this war in Afghanistan that's gone on now for 40 years," said US Defence Secretary Jim Mattis in Pentagon, while in a meet with Union Defence Minster Nirmala Sitharaman.
Jim Mattis added that "It's time for everyone to get on board, support the United Nations; support Prime Minister Modi's, (Afghan) President (Ashraf) Ghani and all those who are trying to maintain peace and make for a better world here," as reported by the NDTV.
Jim said that, "We are on that track. It is diplomatically led as it should be, and we'll do our best to protect the Afghan people."
Earlier, US President Donald Trump had written a letter to the Pakistan PM Imran Khan, where the former had been seeking the support of the latter to initiate a pace process in Afghanistan and strengthen a US-Pakistan partnership.
Also read: Delhi: Shocking! 16-year-old boy and his cousin shot and injured in pub after DJ refused to play songs