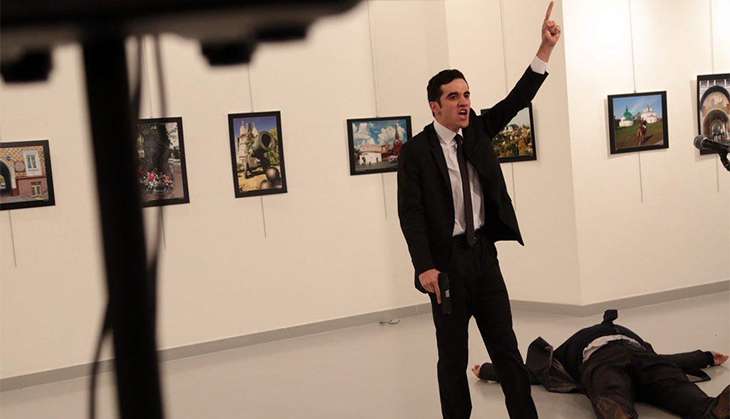 The United States Embassy in Ankara and its Consulates in Istanbul and Adana will remain closed on 20 December as a precaution after an individual approached the Embassy and discharged a firearm, the Embassy said in a statement.
According to reports, the individual who opened fire was in police custody and there were no reported injuries in the incident.
The shooting at the Embassy followed the assassination of Andrey Karlov, who was the Russian ambassador to Turkey. He was shot dead last evening by an off-duty policeman.
Also Read: Trump condemns killing of Russian envoy, Berlin attack; calls gunman 'radical Islamic terrorist'
Russia's ambassador to Turkey, Andrey Karlov, was shot dead by a gunman in Ankara reportedly in protest to Russia's involvement in the Syrian conflict. Several others have also been injured.
Karlov was several minutes into a speech at the Embassy-sponsored exhibition when a man wearing a suit and tie shouted "Allahu akbar" and fired at least eight shots, according to an AP photographer in the audience.
Some reports say the gunman, who has been "neutralised", also shouted "We will make you pay for Aleppo". In a video making the rounds of social media, the gunman could be seen standing calmly behind Karlov before pulling out a pistol and opening fire.
The gunman who shot the ambassador was a police officer who worked in the Turkish capital, two security sources told Reuters. Local media, citing security guards at the scene, said the killer showed a police ID to enter the gallery.
Karlov, 62, joined the diplomatic service in 1976, and has served as the country's ambassador to Turkey since 2013. He served as Russia's ambassador to Pyongyang from 2001 to 2006, and later worked as the chief of the Foreign Ministry's consular department.