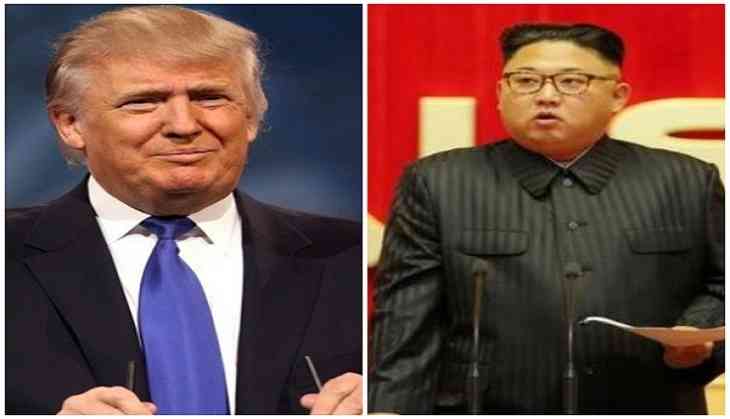 Donald Trump and Kim-Jong unn
The sanctions imposed by the United States are a source of growing mistrust with North Korea, and could threaten to stall the progress made in the denuclearisation talks between the two countries, the North's official newspaper said on Thursday.
The Rodong Sinmun, the official newspaper of the ruling Workers' Party, made the accusations ahead of US Secretary of State Mike Pompeo's visit to Pyongyang, which is scheduled for October 7.

"There is nothing the US could get from sanctions and it is no other than them who will be put at disadvantage. As we did in the past, we will never beg the U.S. to lift those sanctions," the newspaper was quoted by Yonhap News Agency as saying.
Asserting that denuclearisation is a fruit that 'grows on trust building' between Washington and Pyongyang, The Rodong Sinmun, in a commentary, said that "sanctions are a major source of cause for the growing mistrust with the US."
The newspaper stated that North Korea fulfilled its pledges made during the recent inter-Korean summit meeting between the leaders of North and South Korea by dismantling a missile engine and launching pad site and the plan to shut down its key nuclear complex in Yongbyon. It further said that the steps taken are a clear expression of its commitment to denuclearisation and "good-will" and "reconciliatory" gestures.
Continuing its tirade against the US for not lifting its sanctions, The Rodong Sinmun said, "But the U.S. is coming up with a thorny stick of maintaining or intensifying sanctions. It is a consistent assessment by people that the U.S.' inappropriate attitude of talking only about sanctions are casting (a) shadow over efforts of building trust and improving relations, potentially bringing all things back to the starting point."
While Pyongyang, on the one hand, has repeatedly asserted that it has taken various steps to dismantle its nuclear weapons programme in exchange for a possible sanctions relief, the US, on the other hand, has reiterated that it will not lift the sanctions unless North Korea achieved "complete and fully verifiable denuclearisation."
North Korean Foreign Minister Ri Yong-ho had said at the 73rd United Nations General Assembly last month that there would be no unilateral denuclearisation without "any trust in the US and confidence in its own national security.
-ANI