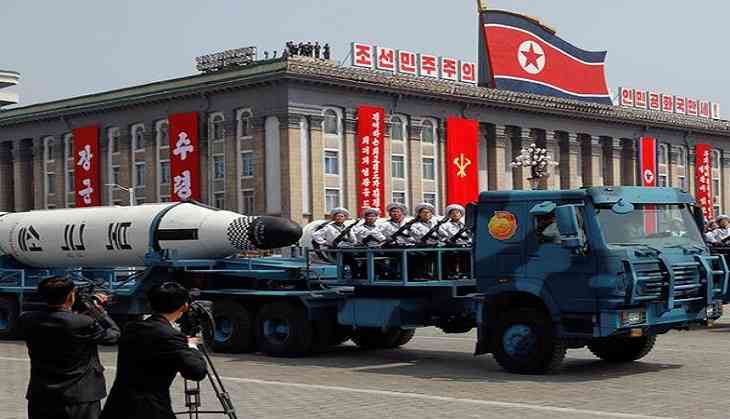 The U.S. military has recorded "highly unusual and unprecedented levels" of activity by North Korea's Romeo-class submarine force in Japan's waters, including evidence of a nuclear "ejection test" after Pyongyang's second intercontinental ballistic missile test.
Three ejection tests were carried out on land at Sinpo Naval Shipyard in July alone,CNN quoted U.S.officials, as saying. A further test was carried out at the base, which is the headquarters of the Maritime Research Institute of North Korea's Academy of National Defence Science, earlier in the year.
An ejection test examines a missile's "cold-launch system," which uses high pressure steam to propel a missile out of the launch canister into the air before its engines ignite. That helps prevent flames and heat from the engine from damaging either the submarine, submersible barge or any nearby equipment used to launch the missile.
Carried out on land at Sinpo Naval Shipyard, Sunday's ejection test is the third time this month and fourth in 2017, that North Korea has conducted a trial of the missile component that is critical to developing submarine launch capabilities, according to the US defense official.
U.S. intelligence officials has been continuously montoring the North Korean submarine movements and detected that Sang-O submarine was operating in the Yellow Sea and the length of its deployment was notable. Two Romeo submarines were detected in the waters off Japan for about a week.
U.S. President Donald Trump is concerned with the recent two intercontinental ballistic missile test by North Korea and now U.S. officials has detected f Pyongyang's increased submarine activity coupled with another ejection test .
In response to North Korea's latest missile launch, the U.S. Air Force flew two B-1B bombers accompanied by South Korean and Japanese jet fighters over the Korean Peninsula on Saturday.
The U.S. Pacific Command said the mission was in "direct response" to North Korea's "escalatory launch" of intercontinental ballistic missiles July 3 and July 28.
After his second full Cabinet meeting, Trump said that his administration will be able to take care of North Korea but offered no specifics about what he plans to do.
"We will handle North Korea. We are gonna be able to handle them. It will be handled. We handle everything," Trump said Monday after a reporter asked him about his strategy.
-ANI