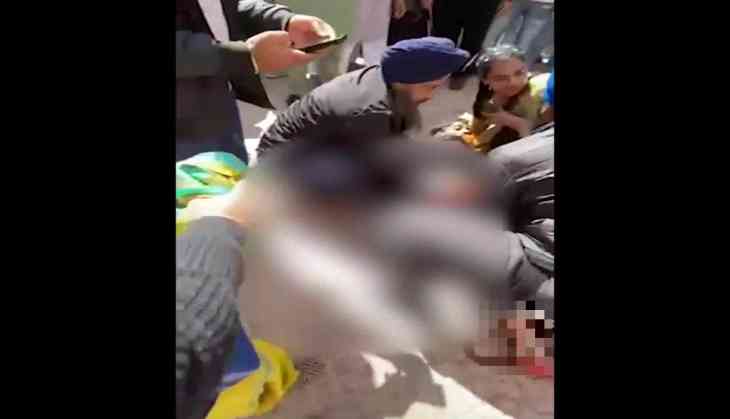 A shooting incident took place outside a Gurudwara in California's Sacramento County on March 26, amidst pro and anti Khalistan protests in London and the United States. Two people were injured in the incident and were rushed to the hospital for treatment.
The local police clarified that the incident was not a hate crime.
The US | "Two people shot at a Gurudwara in Sacramento County, California. The shooting is not related to a hate crime, it is a shootout between two men who knew each other," says Sacramento County Sheriff's Office. pic.twitter.com/zKWY58yWOY

— ANI (@ANI) March 27, 2023
The Sikh society condemned the incident, stating that it was unfortunate that a few misguided people tried to ruin the Nagar Kirtan parade, and demanded stringent punishment for the culprits.
According to The Sacramento Bee, the shooting took place on March 26 at around 2:30 pm (3 am IST on Monday) at the Gurdwara Sacramento Sikh Society. Sacramento County Sheriff's Office spokesman Sgt. Amar Gandhi stated that a fist fight had broken out between two men on the Gurudwara premises that escalated to a shooting. The police have apprehended one suspect, while another is still at large."
"The individuals involved all seemed to know each other. It seemed very targeted in the fact that it wasn't some random thing that posed any danger to the other patrons other than the shooting," Gandhi told to a local media.
"One suspect during that fight shot a friend of the other suspect," Fox40 news quoted Gandhi as saying. "Once the other suspect, who didn't get shot, gathered himself, he shot at the original shooter and then our second shooter ran off." He added.
The Bradshaw Sikh Society termed the incident 'unfortunate'. "The Bradshaw Sikh Society hosted its first Sikh Parade with thousands of congregants from the region. The parade was peaceful and a celebration of faith. It is unfortunate that a few misguided people tried to ruin a cultural and religious event," said the society in a statement released on Facebook.
"A shooting occurred at the Gurdwara while the parade was in procession. We hope the culprit(s) is punished to the fullest extent of the law. They were not a part of the parade and showed up after the parade left hours earlier. These displays of violence go against our Sikh faith. We regret any inconvenience and fear this may have caused. We are strong and resilient together," it said.