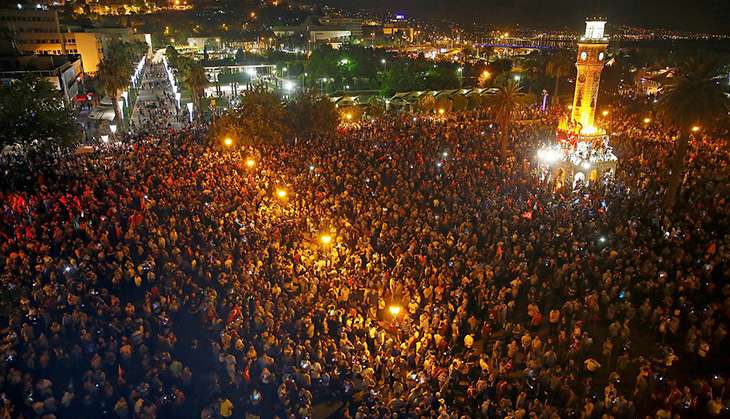 Turkey has been rocked by violence yet again, just days after a triple suicide bombing and gun attack by suspected Islamic State terrorists at Istanbul's Ataturk airport left 91 dead and over 1000 injured.
Over 90 people were left dead after sections of the Turkish army attempted to topple the President Recep Tayyip Erdogan government on 15 July. Seventeen of the deceased are reported to be policemen. Several hundred civilians have sustained injuries in violent clashes in Ankara.
Also Read: 90 dead in Turkey Coup attempt; General killed, 200 soldiers detained
Despite the fact the Erdogan and his party were democratically elected, the armed forces claimed to have launched a coup, claiming that it was an attempt to protect democracy.
However, this isn't the first time that the Turkish military has attempted to overthrow the government. In fact, Turkey has a long history of military coups. Take a look:
1960
Turkey witnessed its first military coup in 1960.
In an attempt to introduce new laws, then-prime minister Adnan Menderes and president Celal Bayar allegedly imposed restrictive press laws - which also included a publishing ban on newspapers that were critical of the government.
The army launched a coup and arrested the president and the Prime Minister. They were tried for treason and PM Menderes was executed.
1971
Eleven years after the first military coup, a recession in the Turkish economy led to major unrest in the country with workers staging violent protests. The military stepped in once again to restore order, leading to the resignation of then Prime Minister Suleyman Demirel.
1980
Turkey witnessed its third and bloodiest coup in 1980, with the left and right-wing groups continuing their violent clashes on the streets.
The military intervened and dissolved the government. For the next three years, the Turkish Armed Forces ruled the country through the National Security Council, before democracy was restored. Thousands of people were assassinated and over 5,00,000 were arrested. Many died while in the prison.
1997
The 1997 military coup is famously termed as Turkey's "postmodern" coup. After the Islamist Welfare party came into power in 1995, the military issued a number of recommendations which the government had no choice but to accept. Additionally, prime minister, Necmettin Erbakan was forced to resign.