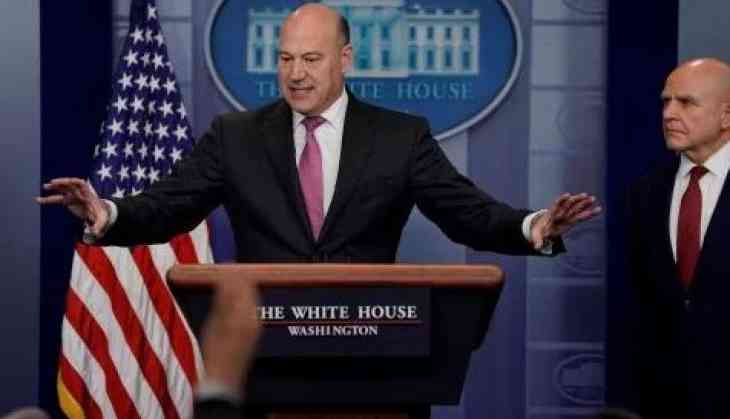 Former Goldman Sachs executive Gary Cohn resigned from his post as chief economic adviser to the United States President Donald Trump due to disagreement with the White House plan to impose tariffs on imports of steel and aluminum.
"It has been an honor to serve my country and enact pro-growth economic policies to benefit the American people, in particular, the passage of historic tax reform. I am grateful to the President for giving me this opportunity and wish him and the Administration great success in the future," the 57-year-old Cohn said in a statement, media reported.
Also Read: American television host Jimmy Kimmel calls Trump 'lowest rated President'
His resignation reportedly will take effect in the coming weeks.
"Gary has been my chief economic adviser and did a superb job in driving our agenda, helping to deliver historic tax cuts and reforms and unleashing the American economy once again," said Trump in a statement released by the White House.
"He is a rare talent, and I thank him for his dedicated service to the American people," the president added.
Cohn is the latest in a long list of Trump's close advisers to resign and the announcement comes just a few days after the departure of the president's faithful adviser and communications director, Hope Hicks.
Also Read: Trump slips over 200 places in Forbes billionaires list
Although the White House has not yet confirmed that Cohn has ended his term with the administration due to his differences with Trump on the tariff issue, it is public knowledge that the former Goldman Sachs president and COO had opposed the mogul's plan to raise tariffs on imported steel by 25 percent and on aluminum by 10 percent.
The president announced last week that he would impose the tariffs despite the opposition of a large number of Republican lawmakers and Cohn.
Also Read: Jeff Bezos is world's richest man: Forbes
The departure of Cohn, a Democrat who is a defender of free trade, could have a domino effect on the president's economic decisions and on the financial sector, given that last August, the mere threat of his exit caused the investment markets to tumble.
Indeed, in after-hours trading, one exchange-traded fund measuring the broad US stock market - the SPDR S&P 500 ETF Trust (SPY) - fell more than 1 percent after the news of Cohn's resignation broke.
Read More On Catch: Google celebrates International Women's Day on its Play Store