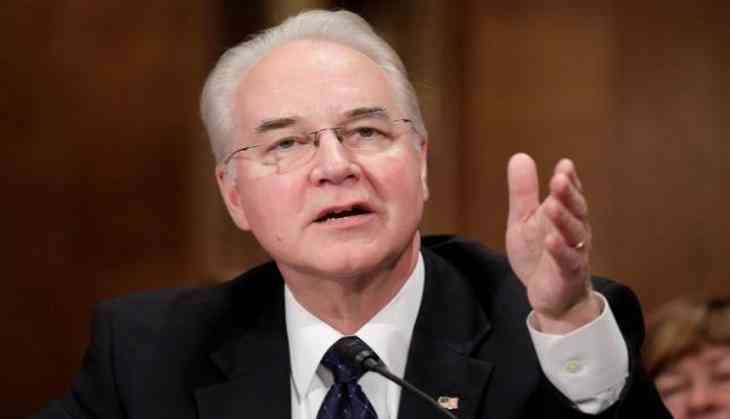 Tom Price, the embattled health and human services (HHS) secretary, has resigned in the midst of a scandal over his use of private planes.
The controversy around the usage of his private planes had enraged United States President Donald Trump and undercut his promise to bring accountability to Washington.
Price is being investigated by the department's inspector general for using private jets for multiple government business trips, even to fly distances often as short as from Washington to Philadelphia, the CNN reports.
The resignation was announced as Trump flew aboard for another weekend at his golf club in New Jersey.
Speaking less than an hour before the resignation was announced, Trump bemoaned the matter.
He called Price a "very fine man" who had, nonetheless, made a grave mistake.
"This is an administration that saves hundreds of millions of dollars on renegotiating things. So I don't like to see somebody that perhaps there's the perception that it wasn't right," he said.
"I was disappointed because I didn't like it, cosmetically or otherwise. I was disappointed," he added.
Price and his aides have, meanwhile, insisted that the trips he took by private charter jet had been approved through the usual legal and ethics offices at HHS, the CNN reports.
Price adds to the list of dramatic departures over the first eight months of Trump administration.
Since taking office, Trump has dismissed or seen quit his national security advisor, press secretary, communications director, chief strategist, acting attorney general and FBI director.
-ANI