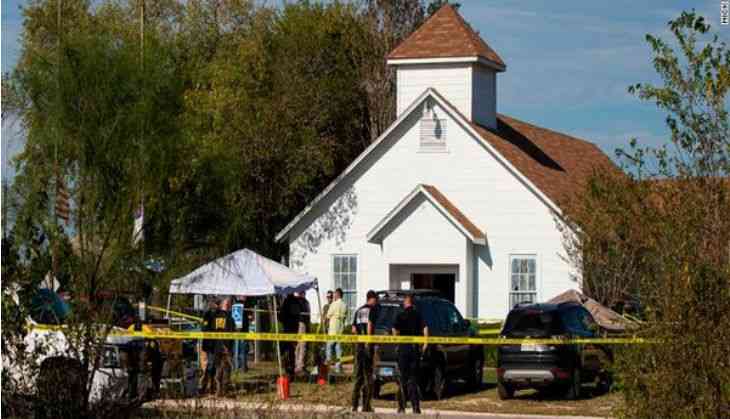 At least 26 people were killed in Sunday's church shooting in Sutherland Springs, Texas, with the deceased ranging in age from 5 to 72 years old.
The above-mentioned information was provided by Texas Governor Greg Abbott, in a press conference.
The shooter has been identified as Devin Patrick Kelley, 26, according to two law enforcement officers briefed on the situation, CNN reports.
The shooting took place at the First Baptist Church of Sutherland Springs, about 65 km east of San Antonio.
Many others were wounded, said Freeman Martin, a regional director with the Texas Department of Public Safety.
Among the dead is the 14-year-old daughter of the church's pastor, Frank Pomeroy, according to his wife, Sherri Pomeroy, the girl's mother.
After a brief chase, the law enforcement later found the suspect dead of a gunshot wound inside his vehicle.
Martin said the authorities were not sure if the wound was self-inflicted or the result of the resident who fired on the suspect.
Earlier, United States President Donald Trump expressed his condolence for the victims of the mass shooting at the church.
"May God be w/ the people of Sutherland Springs, Texas. The FBI & law enforcement are on the scene. I am monitoring the situation from Japan," Trump tweeted on Sunday.
Trump has been briefed on the shooting, according to White House Press Secretary Sarah Sanders, and has spoken with the Texas Governor.
The FBI is responding to the scene of the shooting, according to Michelle Lee, spokeswoman for the FBI's San Antonio field office.
Meanwhile, a cashier at a gas station across the street from the church told CNN she heard about 20 shots being fired in quick succession while a church service was underway around 11:30 a.m. local time.
The New York Times quoted a official, Paul W. Pfeil, a Wilson County, Tex., commissioner, as saying that he did not have a total count of the number of dead in the shooting, but, he said, it was "more than 20."
Albert Gamez Jr., another Wilson County commissioner, told CNN that he was told by the police that the gunman was chased into the next county and was killed, but it was not clear whether the police shot him or he killed himself.
Gamaz said he was told by an emergency medical technician that 27 people were dead and 24 others were injured.

- - ANI