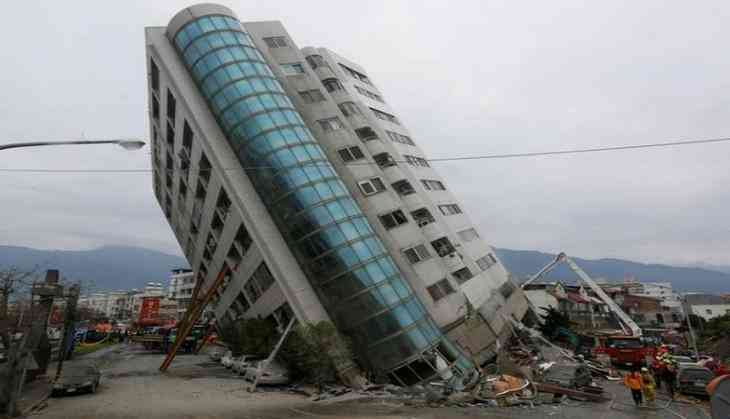 Four people were officially killed and 225 people were injured after a 6.4 magnitude earthquake struck Hualien in Taiwan's east coast late on Tuesday.
The earthquake resulted in around four buildings, including a popular international hotel to cave in and tilt dangerously, The Telegraph reported.
Around 150 people were missing as rescue operation forces searched through a rubble of partially collapsed buildings. The number of casualties is likely to go up.
The National Fire Agency said the force of the tremor buckled roads and disrupted electricity and water supplies to thousands of households.
The Taiwanese media reported that a separate hotel known as the Beautiful Life Hotel was tilting and a road near the hotel that fractured in several parts.
The city's bridges and highways were closed after the earthquake. Inspections were yet to be made after the bridges buckled under pressure due to the quake.
With aftershocks continuing through the night, residents were being directed to shelters, including a newly built baseball stadium, where beds and hot food were provided.
Aftershocks continued throughout the night while residents were evacuated to the open from the affected buildings. Hot food and beds were provided by the rescue authorities.
Speaking from a crisis center in Taipei, Cabinet spokesman Hsu Kuo-yung said rail links were unaffected and the runway of Hualien airport was intact.
"We're putting a priority on Hualien people being able to return home to check on their loved ones," Hsu said.
The Taiwanese media reported that all schools and offices in Hualien County was closed with effect from Wednesday till further notice, citing the county government.
"The president has asked the cabinet and related ministries to immediately launch the 'disaster mechanism' and to work at the fastest rate on disaster relief work," Taiwanese President Tsai Ing-wen's office said in a statement.
Earlier, at least 30 people were trapped in a hotel that collapsed after a 6.4-magnitude earthquake hit northeast of the port city Hualien on Tuesday.
The quake hit at 11:50 pm (local time) (3.50pm GMT), around 21 kilometres, northeast of the port city of Hualien, according to the United States Geological Survey (USGS).
Another strong earthquake measuring 6.1 on the Richter Scale had struck off the coast of Hualien on Sunday.
On February 6, 2016, an earthquake with a magnitude of 6.4 struck 28 km northeast of Pingtung city in southern Taiwan, killing 117 people and injuring more than 550 people.
The earthquake had struck at a depth of around 23 km. Many buildings were destroyed in the affected city.
Taiwan is located in the Ring of Fire, an area in the basin of the Pacific Ocean, which is vulnerable to frequent earthquakes and volcanic eruptions.
--ANI