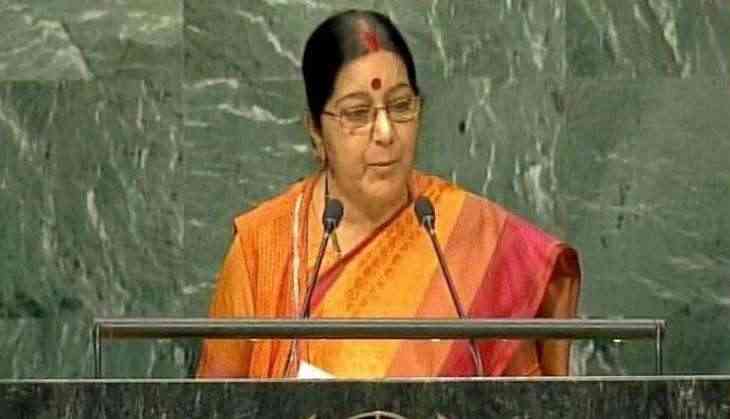 Unleashing a very sharp and strong attack on Pakistan, India' External Affairs Minister Sushma Swaraj on 23rd September ripped apart Pakistan at United Nations General Assembly (UNGA).
Sushma said India has risen despite being the principal destination of Pakistan's nefarious export of terrorism.
"India has risen despite being the principal destination of Pakistan's nefarious export of terrorism. There have been many governments under many parties during 70 years of Indian freedom, for we have been a sustained democracy. Every government has done its bit for India's development. We have marched ahead consistently without pause, in education, health and across the range of human welfare. We established scientific and technical institutions which are the pride of the world," Swaraj said while addressing the 72nd UNGA session in New York.
She also questioned as to what has Pakistan offered to the world and to its own people apart from terrorism?
In a stinging response to Pakistan at the UNGA, she said India is completely engaged in fighting poverty whereas as Islamabad seems engaged in fighting New Delhi.
Swaraj also hit out at Pakistan's Prime Minister Shahid Khakan Abbasi, saying that that the latter wasted too much of his speech in making accusations against India.
"He (Prime Minister Abbasi) accused India of State sponsored terrorism, and of violating human rights. Those listening had only one observation: "Look who's talking!" A country that has been the world's greatest exporter of havoc, death and inhumanity became a champion of hypocrisy by preaching about humanity from this podium," she said.
Swaraj also said that Pakistan's Prime Minister must answer why Islamabad spurned Prime Minister Narendra Modi's offer of peace and friendship with the neighbouring country.
"Pakistan's Prime Minister claimed that his nation's founder Mohammad Ali Jinnah had bequeathed a foreign policy based on peace and friendship. I would like to remind him that while it remains open to question whether Jinnah Sahab actually advocated such principles, what is beyond doubt is that India's Prime Minister Narendra Modi has, from the moment he took his oath of office, offered the hand of peace, and friendship. Pakistan's Prime Minister must answer why his nation spurned this offer," she said.
Highlighting that India had created and established institutions like IITs, IIMs, and AIIMS, Swaraj asked Pakistan as to what had they created terror groups like Lashkar-e-Taiba, Jaish-e-Mohammed, Haqqani network.
She added that India had produced scholars, doctors and engineers but the Asian neighbour Pakistan produced terrorists.
She alleged that terror groups based in Pakistan were not only attacking India but were also killing people of neighbouring countries Bangladesh and Afghanistan.
Swaraj said that it was for the first time in history of UNGA that three countries had asked for right to reply and they all had to collectively respond.
Speaking on Comprehensive Convention on International Terrorism, She said," If we cannot agree to define our enemy, how can we fight together?
On climate change, Swaraj said that India is deeply committed to the Paris Accord and also mentioned that Indian Prime Minister Narendra Modi had launched the International Solar Alliance towards this cause.
-With ANI inputs