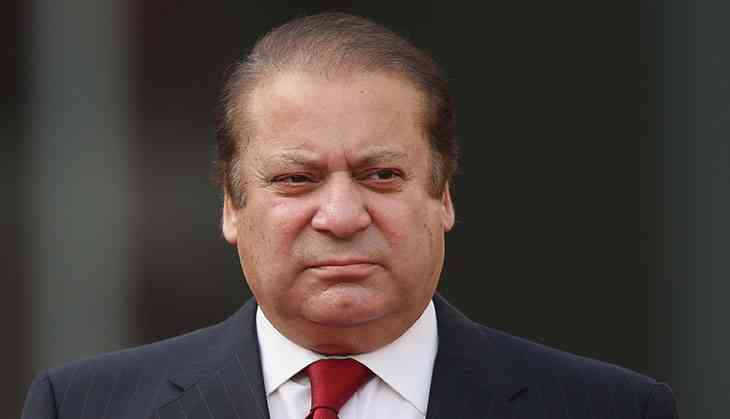 Defence expert Qamar Agha on Friday said that 'disqualified' Pakistan Prime Minster Nawaz Sharif has paid the price of being democratic in a military-dominated country.
Pakistan's Supreme Court on Friday delivered its verdict in Panamagate case and disqualified Nawaz Sharif from continuing as Prime Minister.
In a telephonic interview, Agha told ANI that Sharif has paid the price because he wanted the civilian arm of the federal administration to have a greater say in the management of national affairs, while containing the military establishment.
"After the SAARC Summit was called off in Pakistan, then it was Nawaz Sharif only who had said that Pakistan is being alienated because of the military's support to the militants, and it was the turning point of his political career," Agha said, adding that "since then, relations between Nawaz and the Pakistan Army continued to worsen and culminated in the form of his disqualification."
He also said the Pakistan's military mandarins also didn't like Nawaz Sharif hobnobbing with Indian Prime Minister Narendra Modi.
"The relations between Nawaz Sharif and army were worsening since Indian Prime Minister Narendra Modi came to power in 2014. The army wanted Nawaz to go and it has succeeded in a way," Agha said.
The defence expert didn't mince words and held Pakistan military responsible for nailing Nawaz Sharif through the country's 'radical' judiciary.
Replying to a specific question whether he saw the hand of the Pakistan military in the Panamagate verdict, Agha said, "I do see a Pakistani military's hand in the Panamagate verdict, because the judiciary and the military are hand-in-hand. Pakistani judiciary has always backed the military establishment and not the civilian government. This not the first time that a Paksitani prime minister has been removed by the judiciary. The judiciary has been backing the military since the time of former Pakistan President General Zia-ul-Haq."
He further asserted that Pakistani judiciary is dominated by radical Islamists.
"Many judges and lawyers are directly or indirectly connected with Jamaat-e-Islami, which has very close ties the army," the defence expert said.
Jamaat-e-Islami (JI) is a social conservative, and Islamist political party. Its objective is to make Pakistan an Islamic state, governed by Sharia law, through a gradual legal, and political process.
The party came under severe government repression in 1948, 1953, and 1963, but it served General Zia-ul-Haq regime's 'ideological and political arm' when many JI members held cabinet portfolios.
The defence expert said that not only has Sharif been disqualified, but he will also go to jail.
"The Pakistani Army will see to it that ruling Pakistan Muslim League (Nawaz) disintegrates, because it is the only pan-Pakistan party. Pakistan People's Party (PPP) is confined to Sindh only. Though the Pakistan Tehreek-e-Insaf (PTI) chief Imran Khan has emerged as national political leader, but political situation in Pakistan has become very bad,' Agha lamented, and added that forces of destabilization will gain ground in Pakistan.
Replying a question, he said that Pakistan military will have a hegemony over any political establishment in the country.
"The timing of Panamagate verdict is very important. Pakistan has a very sinister design in Jammu and Kashmir and Afghanistan. Second thing, they (Army) have support of China also and are being emboldened and trying to play the Chinese card. They don't allow the civilian establishment to play a greater role. They want to have a puppet government in Islamabad so that they can continue to control it from Rawalpindi," Agha said.
He asserted that considering the mood of the western world, especially the United States; the Pakistan Army is finding it very difficult to stage a coup.So, it prefers a puppet government in Islamabad.
Agha also said that India is used to dealing with a politically unstable Pakistan and it will manage the emerging situation.
-ANI