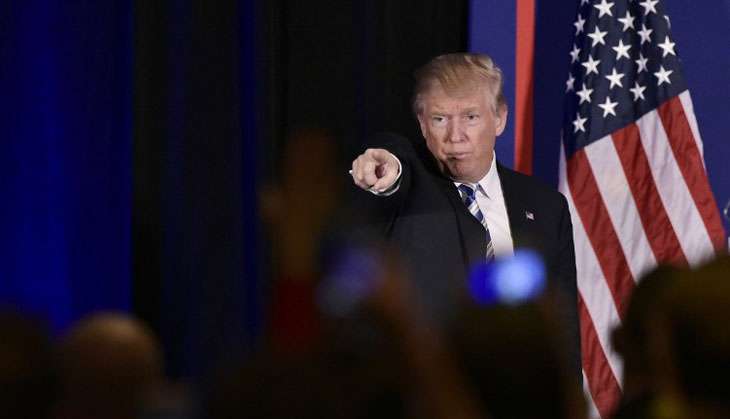 Senior Russian government officials have celebrated Donald Trump's victory over Hillary Clinton as a geopolitical win for their country, according to a media report which said this contributes to intelligence community's assessment that Moscow interfered in the US presidential election.
American intelligence agencies intercepted communications in the aftermath of the election in which Russian officials congratulated themselves on the outcome.
The Washington Post in an exclusive story said that Trump victory, as per these intercepts, was seen as a major geopolitical victory for Russia.
This "contributed to the US intelligence community s assessment that Moscow's efforts were aimed at least in part at helping Trump win the White House", the daily said, adding that this was part of the investigative report on Russian hacking that was delivered to the US President Barack Obama yesterday. The US president-elect Trump would also get the report in New York.
White House Press Secretary Josh Earnest told reporters at his daily news conference that the Obama administration takes very seriously the effort that was undertaken by the Russians to interfere with and even undermine the basics of American democracy.
"The intelligence community takes that quite seriously and that was evident from the extraordinary statement that they issued back in October a month before the election, indicating that they had concluded with high confidence, unanimously, that Russia had undertaken this effort and that this was an effort that could only have been directed from the highest levels of the Russian government," Earnest alleged.
"I think you can discern the seriousness with which we take this issue by taking a close look at the report that was issued last week detailing the US government's response to this malicious cyber activity from the Russians. Of course, that report was not comprehensive but it certainly noted all of the public steps that were taken by the United States government in response," he said in response to a question.
So, I think you can discern that President Obama and the rest of the administration takes this issue quite seriously.
I don't have a new label to apply to it today but this is something that has rightly drawn the attention of the American public and certainly drawn the attention of the president of the United States.
According to The Washington Post other key pieces of information gathered by US spy agencies include the identification of 'actors' involved in delivering stolen Democratic emails to the WikiLeaks website, and disparities in the levels of effort Russian intelligence entities devoted to penetrating and exploiting sensitive information stored on Democratic and Republican campaign networks.
"The Russians felt pretty good about what happened on 8 Nov and they also felt pretty good about what they did," a senior US official was quoted as saying by the paper.
At his final press conference in his capacity as Secretary of State, John Kerry said that he himself and President Obama raised the issue with their Russian counterparts.
-PTI