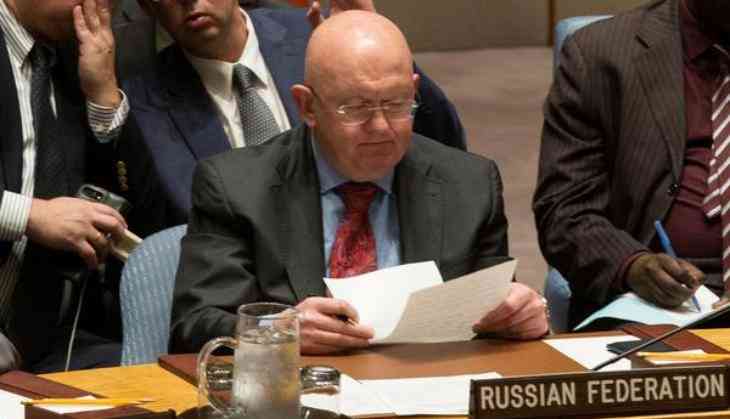 Russia casts veto preventing UN probe into Syria chemical attacks
Russia on Tuesday cast a veto at the United Nations Security Council, preventing the renewal of the mandate for a mission that investigates the use of chemical weapons in the attack on Syria's rebel-held town of Khan Sheikhoun.
The mandate of a joint UN organisation for the prohibition of chemical weapons is due to expire in mid-November.
The investigation by the United Nations and the Organisation for the Prohibition of Chemical Weapons (OPCW) - known as the Joint Investigative Mechanism (JIM) - was unanimously created by the 15-member UN Security Council in 2015, and renewed in 2016.
A JIM report on who is responsible behind the April 4 attack on Khan Sheikhoun is due on October 26.
Russia wanted to discuss the JIM report before casting its vote on extension of the mandate.
"We are ready to return to extending the JIM after the publication of the report and after we discuss it after 26 October," Russian Ambassador to UN Vassily Nebenzia was quoted as saying by The Independent.
However, his request for postponing the vote did not yield the desired result.
Russia is one of the five countries that can exercise veto powers at the Security Council.
Its veto on the probe has invited condemnation from United States.
"Russia has once again demonstrated it will do whatever it takes to ensure the barbaric Assad regime never faces consequences for its continued use of chemicals as weapons," US Ambassador to the United Nations Nikki Haley said in a statement.
A separate OPCW fact-finding mission determined in June that the banned nerve agent sarin had been used in the attack that killed 87 people, which prompted deadly U.S. air strike on the Shayrat airfield of the Syrian air forces, believed by Washington to be the base for warplanes that carried out the chemical attack.
Russia denied a chemical weapons attack took place in Syria saying the deaths in Khan Sheikhoun were caused by a Syrian regime airstrike on a rebel-controlled chemical weapons factory on the ground.
Bashar al-Assad-led Syrian government has denied involvement in the toxic attack and blamed rebel groups.
-ANI