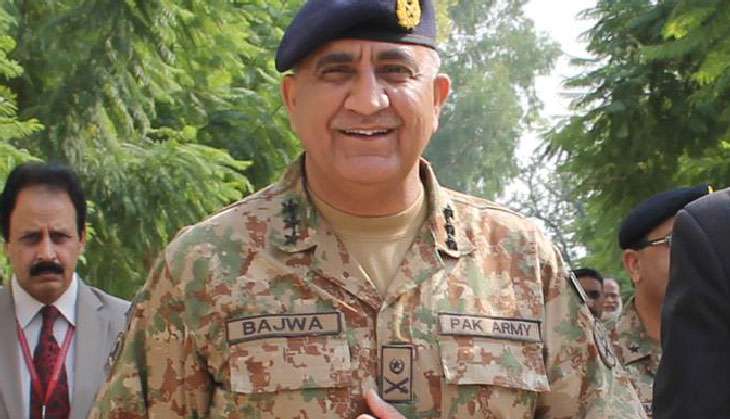 Pakistan's new army chief General Qamar Javed Bajwa on 12 December removed the head of the country's spy agency ISI and made several other significant changes in the army's top brass, as part of a major reshuffle.
Gen Bajwa, who took over from Gen Raheel Sharif two weeks ago, however, did not name Lt Gen Rizwan Akhtar's successor at the powerful Inter-Services Intelligence (ISI).
Lt Gen Akhtar has been appointed President of the National Defence University (NDU), the army said in a statement.
The newly-promoted Lt Gen Bilal Akbar has been appointed Chief of General Staff, it said.
Lt Gen Nazir Butt - presently President of the NDU - has been appointed Corps Commander Peshawar (11Corps), replacing Lt Gen Hidayat-ur Rehman, who was appointed Inspector-General Training and Evaluation (IGT&E) at General Headquarters (GHQ).
Lt Gen Asim Salim Bajwa, presently heading army's media wing, has been appointed Inspector-General Arms (IG Arms) at GHQ.
On December 9, seven major generals were promoted to lieutenant generals, the statement said. And On November 29, Gen Javed Bajwa officially took charge as the 16th Chief of Army Staff during a ceremony in Rawalpindi.
A career infantry officer belonging to the Baloch Regiment, Gen Javed Bajwa is said to have extensive experience of handling affairs in Kashmir and northern areas of Pakistan.
Amont other changes he undertook today, the newly promoted Lt Gen Hamayun Aziz has been appointed Inspector General C&IT at GHQ, while newly promoted Lt Gen Qazi Ikram has been appointed Chief of Logistic Staff at GHQ.
Another newly promoted Lt Gen Sher Afgun has been posted 31 Corps Commander which is based in Bahawalpur near Indian border, while newly Promoted Lt Gen Muhammad Afzal will continue as DG FWO and newly promoted Lt Gen Naeem Ashraf has been appointed Chairman Heavy Industries Taxila(HIT).
The army chief has not appointed heads of ISI, ISPR and Rangers in Sindh.
Officials said the army chief might consult the political leadership before making these "politically sensitive appointments."
--PTI