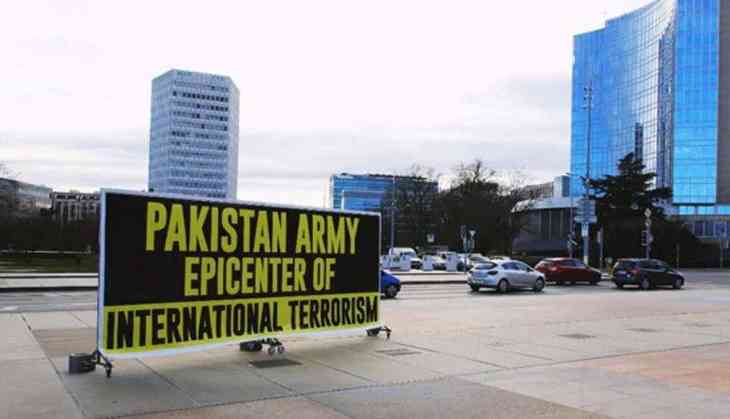 Minority groups from Pakistan have assembled a placard dubbing the country's army 'epicenter of international terrorism' in Geneva during the ongoing session of the United Nations Human Rights Council.
The poster, which displayed "Pakistani Army Epicenter of International Terrorism", was witnessed near the iconic Broken Chair during the session of UNHRC.
According to news agency ANI, a demonstration is also secheduled by Baloch and Pashtun activists in front of the United Nations office in opposition to the complicity of the Pakistan military in breeding terror outfits.
The activist are holding out that the UN should reprimand Pakistan, and take immediate measures to put an end to this and establish the rule of law in the region.
This comes after India instructed Pakistan's top leaders to put an end to terror funding and bulldoze terror camps operating from its soil and territories under its control while denouncing Islamabad's attempt to derail the positive developments in Jammu and Kashmir.
India's remark came after the Financial Action Task Force (FATA) dicided to keep Pakistan in its 'Grey List' and warned the country of grave action if it fails to prosecute and punish those complicit in terror funding.
India also focused attention on the plight of minorities in Pakistan, urging the country's leadership to put an end to harassment and killing of minorities through misuse of the blasphemy law, end force conversions and marriages, and stop religious presecution against Shias, Ahmadiyas, Ismailia and Hazaras.
Also Read: Pulwama attack: NIA conducts raids at two homes in connection with deadly attack by JeM
Also Read: ISIS provokes Indian Muslims by showing Delhi violence poster; asks to join jihad