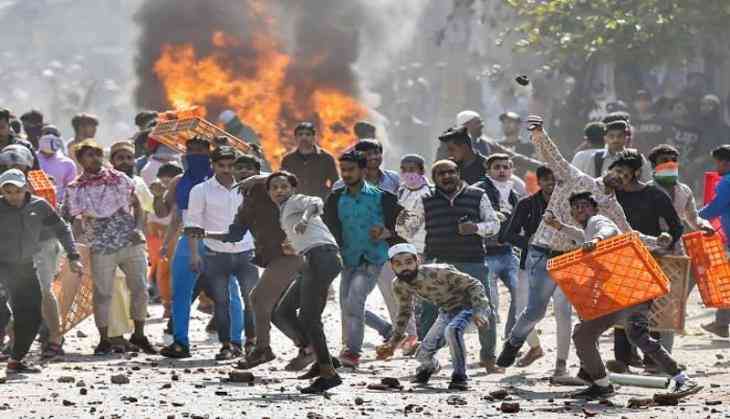 Terror organisations, including ISIS, are scrambling to use riots pictures for radicalisation, sending security agencies in a flutter.
As maintained by security agencies, coded chat rooms, Telegram, WhatsApp and DarkNet are filled with propaganda, trying to persuade youths to pick up guns and join jihad.
The picture of a Muslim man being beaten during the Delhi violence moved everyone on the internet. But what is more alarming is that the picture was converted into a poster by Islamic State urging the Muslims of India to join forces and participate in jihad.
The report unfolded following the investigating agencies found posters and online newsletter by an Indian subcontinent focused Islamic State aligned media unit on coded chat networks.
The Islamic State document bear an image of Citizenship Amendment Act (CAA) protest at Red Fort with a message, "So where are you going? A call to Muslims of India." The document also carries a picture of PM Modi, Home Minister Amit Shah and Uttar Pradesh Chief Minister Yogi Adityanath and NSA Ajit Doval.
According to investigators the document came into sight on 27th February and also gave prominence to Kanhaiya Kumar and Asaduddin Owaisi as freedom fighters. Investigating agencies have come across several morphed images, videos and hate speeches on chat apps.
"This has come to our notice and such activities are being monitored," said a senior official of a central investigating agency.
As per sources, intelligence agencies have notified that the sleeper cells of some terror organisations are already working towards identifying vulnerable people, who are actively taking part in CAA protest, and can be radicalised.
"We are tracking where such contents are originating and circulating. To stop mass circulation we request service provider to block it," said a senior official of Crime Branch of Delhi Police.
Also Read: Delhi Violence: Shahrukh Khan, who openly threatened policeman Deepak Dahiya with gun was never arrested
Also Read: Bernie Sanders slams US President Donald Trump for his response to Delhi violence
Unsurprisingly, the viral image of a Muslim man being beaten by a Hindu mob in Delhi has now been repurposed by ISIS, in a poster justifying retaliatory violence in "Wilayat al-Hind," the Caliphate's "Indian Province." pic.twitter.com/Cw5EzAvmE5

— Rukmini Callimachi (@rcallimachi) February 28, 2020
This is not the first instant that Islamic State has tried to take advantage of the local conflicts to incite Muslims to join them.
Previously also, videos and images allegedly displaying act of brutality on Muslims in India were used by global terror organisation to incite the community.
"For radicalization old visuals or footage from Kashmir was used. Circulation of such messages drastically went down after banning internet in the valley post scrapping of Article 370 in J&K. But after Delhi violence images and videos are being misused to incite violence. The timing and sequence of incident hints how there can be a bigger agenda behind the violence," said Neelesh Purohit, a cyber intelligence investigator.