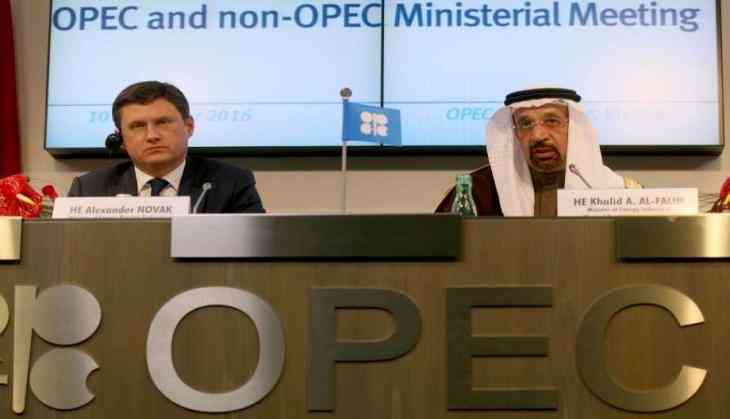 The Joint Ministerial Monitoring Committee (JMMC) of the Organization of the Petroleum Exporting Countries (OPEC) and non-cartel oil producers urged countries with spare oil production capacities to meet consumer demand before the end of 2018, Russian Energy Ministry said in a statement on Sunday.
"The Committee appealed to countries that have spare capacities for oil production, calling on them to ensure the satisfaction of the oil buyers' demand by the end of 2018," the statement said.
It is also noted that the ministerial committee instructed the technical committee to study the forecast for 2019 and submit proposals for determining the volume of oil production, which would allow market to be balanced next year.
On Sunday, the 10th meeting of the ministerial committee for monitoring the OPEC-non-OPEC oil output cut deal was held in Algiers. The committee members agreed to continue to strive for a 100-per cent compliance with the Vienna agreement in the coming months. In August, the compliance stood at 129 per cent.
In 2016, OPEC and several non-OPEC oil producers, including Russia, agreed to cut output by a total of 1.8 million barrels per day in an effort to stabilize global oil prices. The agreement, which came into effect in 2017, has been extended twice since then and will remain in force until the end of 2018. In late June, the OPEC and non-OPEC producers agreed to increase production by a combined 1 million barrels per day to get away from over compliance with the agreement.
Speaking after the meeting, Russian Energy Minister Alexander Novak said the world oil market is still partially in deficit, but it is insignificant.
"The market is still partially in deficit, but this deficit is insignificant. We see that the (oil reserves) inventory is falling ... The decline has just decelerated," Novak said.
He added that Russia is still studying proposal of the OPEC to become an observer in it, and the final decision has not yet been made.
"I said that we are ready to consider this issue. The Russian government is still considering it, and a final decision has not been taken yet," Novak said.
OPEC's proposal to Russia to become an observer country in the organization was revealed in June. Novak then said that Russia would study it carefully.
-ANI