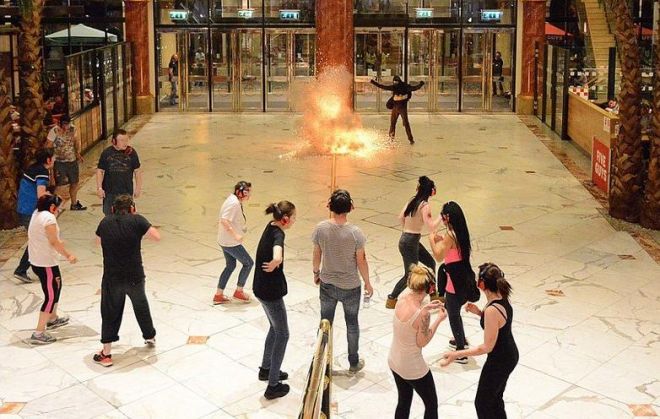 The Manchester Police in the United Kingdom has apologised for making a fake bomber use a "religious phrase" during a counter-terror drill in the city.
The fake suicide bomber repeatedly shouted "Allahu Akbar" (which means God is great in Arabic) before pretending to carry out an explosion during a counter-terror drill at Manchester's Trafford Centre - one of the UKs largest shopping complexes. Dressed in black, the mock bomber walked into the shopping centre and shouted at the crowd as hundreds of people ran screaming and hid in shops and restaurants.
The incident drew heavy criticism from across the board, with many condemning the use of "stereotypes" for the exercise. Some activists raised concerns that the incident would fuel anti-Muslim prejudice.
Dr Erinma Bell, who was made an MBE for her anti-gun campaign work in Manchester, was among those criticising the decision. "We need to move away from stereotypes if we want to achieve real learning," she wrote on Twitter. "A terrorist can be anyone," she said.
The Community Safety Forum, an anti-Islamophobia group, called the use of the phrase "Allahu Akbar" offensive and said it was not necessary to make the scenario real, The Independent reported.
"This sort of thing panders to stereotypes and further divides us," a spokesperson added. "It will increase anti-Muslim hate crime".
In response to criticism, Greater Manchester Police's assistant chief constable Gary Shewan said the decision was "unacceptable" and apologised for any offence caused.
"The scenario for this exercise is based on a suicide attack by an extremist Daesh (ISIS) style organisation and the scenario writers have centred the circumstances around previous similar attacks of this nature, mirroring details of past events to make the situation as real life as possible for all those involved," he said in a statement.
"However, on reflection we acknowledge that it was unacceptable to use this religious phrase immediately before the mock suicide bombing, which so vocally linked this exercise with Islam. We recognise and apologise for the offence that this has caused," The Independent quoted him as saying.
Police stressed that there was no specific threat to the Trafford Centre, which is the second-largest in the UK.
The exercise, codenamed Exercise Winchester Accord, was planned in December and is part of a national programme, coming after previous drills in London, Glasgow and Essex, the paper added.