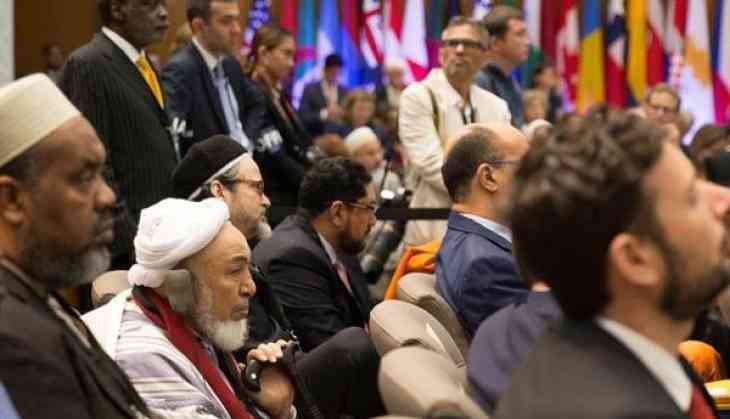 The first-ever Ministerial to Advance Religious Freedom, that held its meeting in Washington this week, has expressed serious concerns over restrictions on religious freedom in China, particularly on the minority groups such as Uighurs, Hui, Kazakh Muslims, Tibetan Buddhists, Catholics, Protestants, Falun Gong. In a statement after its three-day deliberations, the Ministerial in a statement said that these groups are facing severe repression and discrimination in China.
The Ministerial, held from July 24-26, was hosted by US Secretary of State, Michael R Pompeo. It saw interaction between various stakeholders, including foreign ministers, representatives from international organisations, religious leaders and members of civil society who discussed the challenges and ways to fight religious persecution and discrimination. The concluding session was also attended by US Vice President Mike Pence. At the end of its three-day discussions, the Ministerial released specific statements on China, Iran and Burma.
"As representatives of the international community, we are deeply concerned about the significant restrictions on religious freedom in China and call on the Chinese government to respect the human rights of all individuals. Many members of religious minority groups in China- including Uighurs, Hui, and Kazakh Muslims; Tibetan Buddhists; Catholics; Protestants; and Falun Gong- face severe repression and discrimination because of their beliefs. These communities consistently report incidents in which the authorities allegedly torture, physically abuse, arbitrarily arrest, detain, sentence to prison, or harass adherents of both registered and unregistered religious groups for activities related to their religious beliefs and peaceful practices. Authorities also restrict travel and interfere with the selection, education, and veneration of religious leaders for many religious groups.
We are concerned by the government's longstanding efforts to suppress Uighur Muslim and Tibetan Buddhists' religious, linguistic, and cultural identities," the first-ever Ministerial to Advance Religious Freedom, backed by the US State Department, said in its statement on China.
The statement was released following the State Department's meeting with religious leaders, civil society groups, survivors of religious persecution, and delegations from foreign governments for this Ministerial to Advance Religious Freedom, in which Vice President Mike Pence and other senior Trump administration officials also participated.
The statement mentioned that reports of the Chinese government's deepening crackdown on Uighurs and members of other Muslim minority groups were worrisome. It mentioned undue restrictions on freedom of religion, destruction of mosques, high level of surveillance and efforts to pressure other governments into forcibly returning of Uighurs to China or to coerce family members of Uighurs still in Xinjiang to encourage their community members living aboard to return. Besides, detention of hundreds of Uighurs and members of other Muslim minority groups in facilities ranging from makeshift holding centers to prisons under the banner of "political re-education," in the Xinjiang Uighur Autonomous Region was also a cause of concern.
"There are reports of deaths in these facilities. We call on the Chinese government to release immediately all those arbitrarily detained," the statement said. This grouping also expressed concerns over the Chinese government destroying or limiting access to houses of worship, including Protestant and Catholic churches and community buildings.
"Authorities evicted at least 11,500 monks and nuns from Tibetan Buddhist institutes at Larung Gar and Yachen Gar since 2016. Officials also restrict access to, confiscate, and destroy Bibles, Qurans, and other religious materials. We remain concerned about the impact of amended regulations to govern the activities of all religious groups and the draft regulations on foreigners' religious activities in China," the statement said.
"We strongly urge the Chinese government to protect the religious freedom of all individuals and to respect the human rights of all members of religious groups in accordance to China's international commitments to respect freedom of religion. Such developments will only further peace, security, and stability in China and among its neighbors," the statement said.
Earlier, Pompeo, in an Op-Ed article in USA Today, had called for putting an end to religious persecution in countries like Iran and China. "Around the world, adherents from innumerable faith backgrounds suffer similar violations of their most fundamental human rights. Earlier this year, the State Department hosted six United States-based Uighur journalists with Radio Free Asia's Uighur Service. Their reporting indicates that Chinese authorities are likely detaining, at least, hundreds of thousands of Uighurs and other Muslim minorities in internment camps in Xinjiang. One journalist, Gulchehra Hoja, shared that 23 of her family members have been detained in the region. She, like others, have little to no information about her family's well-being," Pompeo wrote in the article, a copy of which is also posted on the US State Department's website.
--ANI