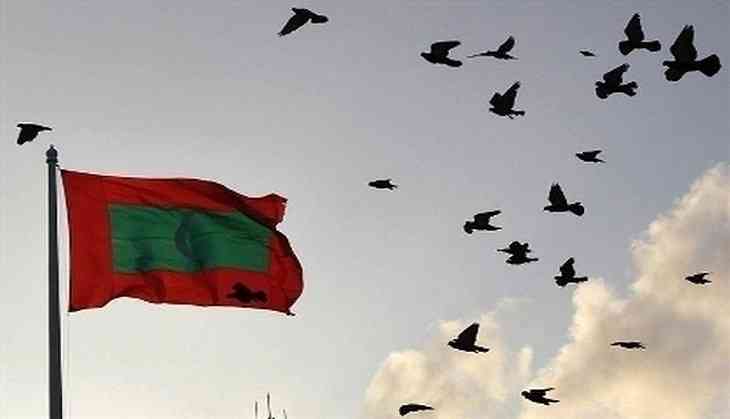 The Maldivian opposition appealed to the international community Thursday to help ensure a peaceful transition of power amid fears that strongman Abdulla Yameen may cling onto power despite his shock election defeat.
The joint opposition, which includes four political parties that successfully put forward the little-known Ibrahim Mohamed Solih at Sunday's vote, called for external help to re-establish democracy in the tiny Indian Ocean archipelago.

"In this regard, we look towards our friends and partners in the international community to assist us, as we move forward in trying to create a Maldives in which all citizens can enjoy peace, prosperity and justice," the opposition said in a statement.
It did not say what form of assistance was requested, but opposition sources said they were looking for strong foreign warnings to Yameen to go quietly.
The statement came hours after the country's military chief and the head of police issued veiled warnings on television against Yameen trying to cling onto power.
Yameen decisively lost Sunday's election, despite all his main rivals being in prison or in exile, sparse media coverage of the opposition, and monitors and the opposition predicting vote-rigging.
Formal results will be announced by the election commission on Sunday and Yameen -- who on Monday conceded defeat -- must hand over power to successor Solih on November 17 at the end of his five-year term.
But rumours have abounded on social media and elsewhere that Yameen could file an election petition seeking the delay of the announcement.
This prompted military chief Major General Ahmed Shiyam to appear on a private TV channel on Wednesday night promising the results would be honoured.
"The people have spoken," Shiyam said. "I want to assure the Maldivian people that the military will protect the will of the people."
Election commission chief Ahmed Shareef confirmed that Yameen's party has lodged several complaints of suspected voting irregularities.
"We will look into these concerns," Shareef said.
But he added that there were no grounds for him to delay the announcement of the formal results.
On Wednesday, the opposition accused Yameen of delaying the release of high-profile political prisoners despite calls by Solih for their release.
Shortly after his shock defeat, Yameen freed five prisoners.
But scores of others -- including Maumoon Abdul Gayoom, his estranged half-brother and former president -- remain incarcerated.
There was no immediate comment from the government.
Yameen jailed or exiled most of his rivals during his turbulent five-year term. Suspecting a plot to impeach him, in February Yameen declared a state of emergency and arrested top judges as well as political opponents.
Yameen's rule dented its image as a honeymoon paradise and attracted alarm abroad -- both the US and the EU had threatened financial sanctions unless the democratic situation improved.
-PTI