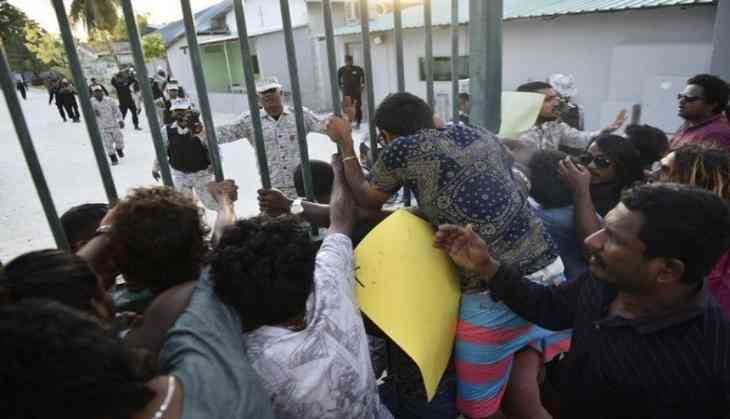 Hours after President Abdulla Yameen declared a state of emergency in the Maldives, the opposition called for other countries to intervene in the crisis.
Ali Zahir, deputy leader of Adhaalath Party (AP), demanded an immediate intervention to resolve the turmoil as the situation continues to worsen after the arrest of top judges and politicians.
Zahir told ANI, "This is the time for other countries to help us. I wonder what the international community is waiting for to happen. Do they want to help us only after we become another Syria?"
Citing concerns, he added, "President Yameen first hijacked and dysfunctioned the parliament and now he has done the same with the judiciary."
There has been worldwide condemnation of the government's move, with the United States also expressing concern.
India on Tuesday said it was disturbed by the declaration of emergency in the country following the refusal of the Abdulla Yameen government to abide by the numinous court ruling ordering release of political prisoners.
Ahmed Mahloof, spokesperson of the Joint Opposition told ANI, "They (international community) need to take strict action as we have a brutal dictator here. He (President Yameen) wouldn't respect any statements by the international community. I support the call by former president Nasheed to send an envoy with the military to talk with the government."
Way back in 1988, India sent its paratroopers and naval warships under `Operation Cactus' to thwart the coup attempt against the government of the then president, Maumoon Abdul Gayoom.
Mohamed Nasheed, Maldives' first democratically-elected president, who now lives in exile in the United Kingdom, tweeted, "Saying 'resolve things internally' is akin to asking us to escalate the revolt, which can lead to chaos. Maldivians see India's role positively: in '88 they came, resolved the crisis, and left. They were not occupiers but liberators. This is why Maldivians look to India now".
Eva Abdulla, a Member of Parliament said, "We need international community's closer engagement, perhaps with India, and for India to take former measures".
When asked why the island nation needs India's intervention at this hour, she replied, "Maldives is in India's backyard. Any instability in Maldives affects the Indian Ocean and India first. And India has always helped in times of national crisis. We have always received help from our international partners to reach solutions."
Abdulla Riyaz, another parliamentarian and former police commissioner said, "We hope the US and India will engage with the government and force to restore democracy in the Maldives, release political prisoners and create an environment for a free and fair election".
He concluded, "Mediate with government and demand to release all political prisoners, otherwise impose economic sanctions."
--ANI