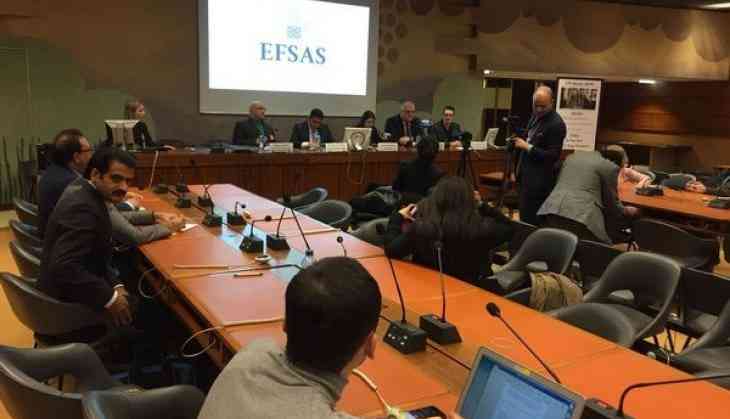 Pakistan continues to remain an epicenter of Islamic radicalization, said a group of international experts while speaking on a side event titled "Growing Extremism in South Asia; Repercussions for the West" held during the 37th session of UN Human Rights Council in Geneva.
Organised by Brussels based European Foundation for South Asian Studies (EFSAS), the event sheds light on the cross-over of extremist elements between South Asia and the West.
Prof. Paul Stott of University of Leicester said, "Historically, this, unfortunately, being a very strong crossover between the Indian sub-continent and the UK in terms of terrorism and certainly in the 1990s not enough attention was paid to the fact that so many young Britons were coming to Kashmir, for example, them entering Pakistan and attending training camps and going to Afghanistan and joining Taliban there and getting involved in political and religious activities which proven to be very problematic indeed. People like Masood Azhar, some quite problematic clerical speakers, who were able to organize in the UK in the 1990s again in a way that authorities rather mix."
Also Read: Prosecutors to seek death penalty in Florida shooting
The experts laid emphasis on the growing nexus between Islamic fundamentalists and terrorists, based in Pakistan, with those settled in UK, Bosnia and other countries in the 1990s. Some of them, including Lashkar-e-Taiba Chief Hafiz Saeed still remain powerful with the support of the state.
"If you look at the recent developments, Hafiz Saeed has been viewed with real concern internationally. And the comments by General Musharraf, for example, seem to be quite supportive of him and his organization. Hafiz Saeed came to the UK in the mid-1990s and the British authorities were really not able to understand his agenda. I think in Pakistan they do understand his agenda. The question is at times he is of use to the state and that means they never quit dealing with the problem, I am afraid," he added
Experts also discussed rise of terror activities in India's Jammu and Kashmir state, where many youths are being pushed towards jihad. Pakistan is accused to be behind brainwashing the youth and use them as proxies.
Also Read: Trump visits California first time as President
Junaid Qureshi, Director of European Foundation for South Asian Studies said, "Radicalization and terrorism are growing in South Asia from the past so many years. If you look, for example, in Pakistan there is a movement going on to mainstream Hafiz Saeed, who actually has a 10 million bounty on him."
He added, "Indoctrination is very impactful. In the beginning, it was mainly because political grievances, autonomy whet ever, then it turned into an Islamic Jihad in Kashmir when we killed the Kashmiri pundits and said that Islamic rule will be followed here. Now, it has turned into pan Islamism. Young boys in Kashmir are being brainwashed to believe that everyone in the Muslim world is fighting for Kashmir, is dying for Kashmir and is believed to establish the Islamic caliphate in Kashmir, which is not true."
Other experts including Lt Col Serge Stroobants, who is a European representative for the Institute for Economics and Peace shed light on the rise of terrorism in South Asia.
Maarten Bolhuis, a researcher, and lecturer at the Criminal Law and Criminology Department of the UV University in Amsterdam spoke about the nexus between asylum, immigration, and jihadism.
--ANI
Read More On Catch: Revealed: Nearly half of US arms exports go to Middle East