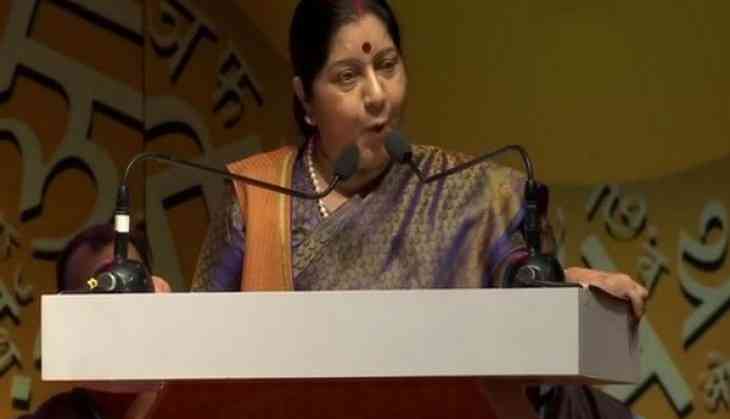 External Affairs Minister Sushma Swaraj on Wednesday reaffirmed India's commitment to the Palestinian cause and said that New Delhi will further develop a partnership to assist in its nation-building and capacity building efforts.
"India's deep and abiding commitment to Palestine is a reference point of our foreign relations. Our long-standing friendship with Palestine is built around three core dimensions- solidarity with Palestinian people; steadfast support to the Palestinian cause; and development of a partnership to assist nation building and capacity building efforts. We are proud that this NAM (Non-Aligned Movement) Ministerial Committee on Palestine was established under India's Presidency during the seventh NAM Summit in New Delhi in 1983," she said in a statement at Ministerial Committee of the NAM on Palestine, on the sidelines of the ongoing United Nations General Assembly (UNGA).

Palestine and Israel have been fighting over the Gaza Strip for decades.
They were later allotted a large part of Palestine, which they considered their ancestorial land but the Arabs who were already residing in and around the neighbouring countries felt that they have fallen into a pit of injustice and didn't accept the new country.
India's support for the Palestinian cause is an integral part of the nation's foreign policy. In 1974, India became the first Non-Arab State to recognize Palestine Liberation Organization (PLO) as the sole and legitimate representative of the Palestinian people.
India was also one of the first countries to recognize the State of Palestine in 1988. In 1996, India opened its Representative Office to the State of Palestine in Gaza, which was shifted to Ramallah in 2003.
India has always played an active role in garnering support for the Palestinian cause across various multilateral fora. India co-sponsored the draft resolution on "the right of Palestinians to self-determination" during the 53rd session of the UNGA and voted in favour of it. India also voted in favour of UNGA Resolution in October 2003 against the construction of the separation wall by Israel and supported subsequent resolutions of the UNGA in this regard.
India voted in favour of accepting Palestine as a full member of UNESCO. In 2012 at the UNGA, Palestine became a 'non-member state' and India had co-sponsored this resolution and voted in favour of it. India supported the Bandung Declaration on Palestine at Asian African Commemorative Conference in April 2015 as well as supported installation of Palestinian flag at UN premises in September 2015.
Elaborating further about the initiatives undertaken by India to boost bilateral ties with Palestine, Swaraj said, "India is investing in projects of healthcare, educational infrastructure, women empowerment and a printing press, in addition to other capacity building programmes. We have set up various bilateral institutional consultation mechanisms including Foreign Office consultations and a Joint Commission, which pursues these partnership projects. Development partnership projects worth around US$ 70 million are under implementation during the last five years. These include flagship projects like the super-speciality hospital in Beit Sahour and the India-Palestine Technology Park, which was inaugurated last year in Ramallah."
"The number of youth delegates to participate in the youth exchange programme has been doubled this year. We have also substantially enhanced the scholarships made available for Palestinian professionals and students for technical training and higher education from this year," she added.
The External Affairs Minister also lauded the United Nations Relief and Works Agency for Palestine Refugees (UNRWA) for making efforts to provide aid to Palestine refugees and added that "India have increased our contribution to UNRWA by a factor of four times from a figure of USD 1.25 million to now USD 5 million annually".
In her concluding remarks, Swaraj said that an early resumption of talks between Israel and Palestine can move towards finding out a comprehensive resolution of the issue. "A negotiated two-state solution remains the only viable solution to the issue to bring sustainable peace and lasting security. Restraint and moderation are required on all sides. The stagnation since the collapse of talks four years ago and the deterioration in the security situation continues to cause serious concern," she said.
-PTI