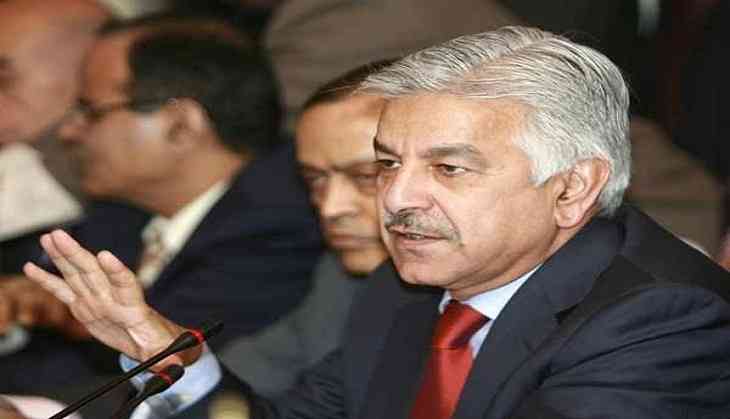 India and Afghanistan should and must respond positively to Pakistan's peace moves and not mistake Islamabad's desire for peace and good relations with its neighbours as its weakness, said Foreign Minister Khawaja Muhammad Asif.
Addressing a press conference on Sunday at the PML-N House in Sialkot, Asif said Pakistan has always wanted to have good relations with its neighbours, and especially with India and Afghanistan, and maintained that both countries are currently not responding positively to Pakistan's initiatives for durable peace in the region.
The Dawn quoted him, as saying, "It's high time for both India and Afghanistan to come forward as good neighbours and give positive response to Pakistan's peace initiatives and end the blame game."
He alleged that India is violating the ceasefire along the Line of Control (LoC) and attempting to destabilize Pakistan economically and politically
He also said that Pakistan is fully capable of defending its territory through its armed forces.
On the issue of terrorism, Asif said that the federal government has been battling it successfully for several decades, by uprooting and crushing terrorists. He said that the world was praising Pakistan's frontline role against terrorism.
He also alleged that India and the United States were involved in an international conspiracy to sabotage the 1960 Indus Water Treaty, posing great danger to the subcontinent.
He pointed out that Pakistan had never been taken into confidence by the international community on all the clauses of the treaty.
Pakistan has now effectively taken up the burning issue of stoppage of water by India into Pakistani rivers with the World Bank which had been playing its role as a guarantor in the Indus Water Treaty. He said Pakistan wanted an amicable solution to the problem and was making all-out sincere international efforts to resolve this prolonged issue as soon as possible.
He disclosed that the issue of construction of the controversial Kishanganga dam had almost been resolved by Pakistan and India about one-and-a-half years ago, but progress on it was halted due to suspension of further talks by India thrice afterwards.
-ANI