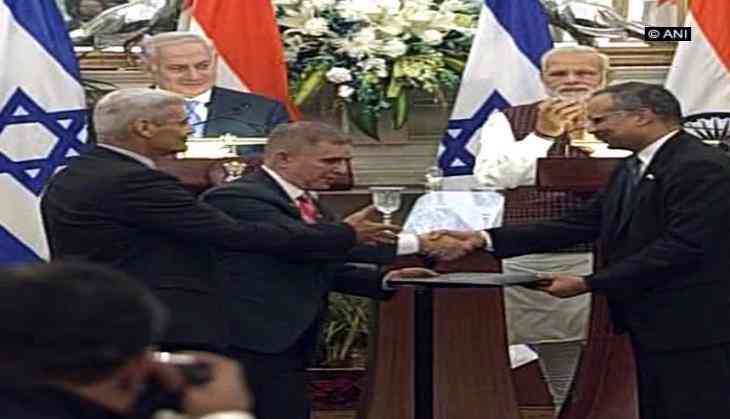 India and Israel on 15 January signed nine Memorandum of Understanding (MoUs) across various fields to further strengthen the bilateral relations between the two countries.
The two sides exchanged MoUs on cybersecurity cooperation; cooperation in oil and gas sector between petroleum and energy ministries; protocol on amendments to air transport agreement; agreement on film co-production; cooperation in field of research in homeopathic medicine; cooperation in field of space; letter of intent between Invest India and Invest in Israel; cooperation in area of metal batteries; and cooperation in area of concentrated solar thermal energies.
The MoUs were exchanged in the presence of Prime Minister Narendra Modi and his Israeli counterpart Benjamin Netanyahu.
Earlier, the leaders held delegation-level talks and discussed the ever-growing cooperation in all aspects of the bilateral relationship between the two sides.
Netanyahu, who is on a six-day visit to India, received a ceremonial reception at the Rashtrapati Bhawan today.
He said that this is "the dawn of a new era in the friendship between India and Israel".
The Israeli premier is accompanied by his wife Sara and a 130-member delegation from various sectors, including cyber, agriculture and defence.
Prime Minister Modi and Netanyahu on Sunday attended a ceremony to mark the formal renaming of iconic Teen Murti Chowk as Teen Murti Haifa Chowk.
They also laid wreath and paid tribute at the Chowk.
Netanyahu will be visiting Agra, Gujarat and Mumbai and will be accompanied by the Indian Prime Minister on extensive portions of his visit.
-ANI