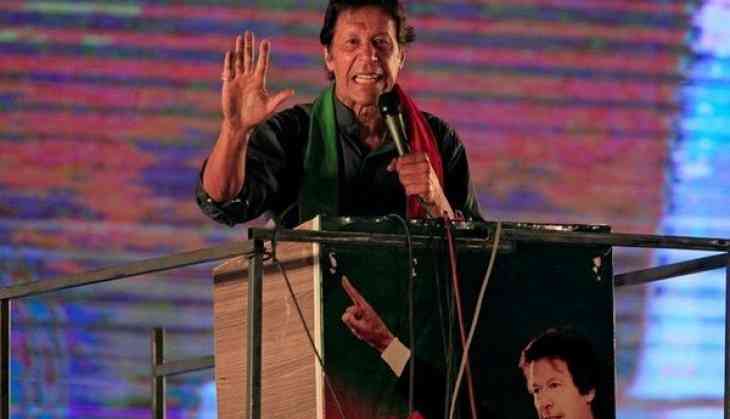 Pakistan Tehreek-i-Insaf (PTI) chief Imran Khan on Thursday criticised Washington's foreign policy and said that President Donald Trump 'has no business giving India an interventionist role in Afghanistan.'
In a series of Tweets he also targeted Indian Prime Minister Narendra Modi and Trump's joint statement.
"Trump has no business giving India an interventionist role in Afghanistan when, unlike India, it is Pak that shares border with Afghanistan," Khan tweeted.
"Trump's Afghan policy will only aggravate the already deteriorating situation there & prevent resolution of the conflict," he added.
During bilateral talks with the Indian prime minister, Trump said he wanted to "thank the Indian people" for their contribution in development of Afghanistan.
Prime Minister Modi had in turn said, "India would maintain close consultation and communication with the U.S. to achieve the joint goal of peace and stability in Afghanistan."
The PTI chief further said, "Trump-Modi statement has removed fig leaf of morality & justice in U.S. foreign policy which is now only based on arms sales & financial gains."
"By trying to lump indigenous Kashmiri freedom struggle as terrorism, Trump is siding with oppressor India as U.S. supports oppressor in Palestine."
Earlier, the Pakistan Government expressed its concerns over the recent U.S.-India Joint Statement during Modi's visit to the United States and said that it could aggravate an already tense situation between Islamabad and New Delhi.
"The meeting in Washington D.C. between President Trump and Prime Minister Modi was a missed opportunity to induce India to alter its policies inimical to peace in the region," said a statement issued from Pakistan Foreign Office.
It also expressed its concerns on the sale of advanced military technologies to India.
"Such sales accentuate military imbalances in the region and undermine strategic stability in South Asia," Pakistani statement said.
With the Donald Trump Administration blacklisting Hizbul Mujahideen leader Syed Salahuddin as a 'Specially Designated Global Terrorist' for his atrocities in Jammu and Kashmir, Pakistan has accused the United States of singing to India's tune.
-ANI