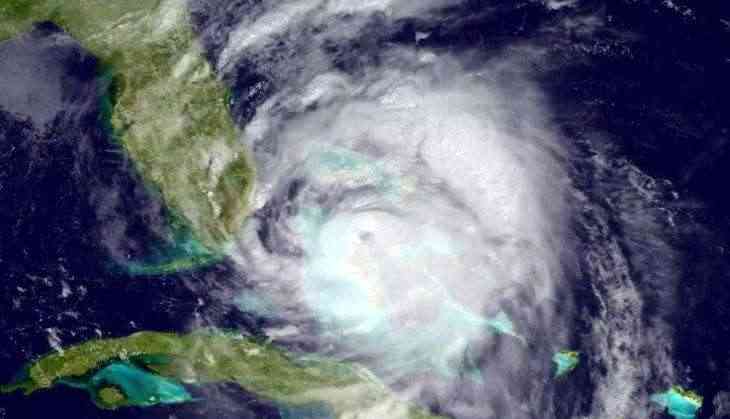 Hurricane Harvey has growth in strength to a Category II storm with "life-threatening" rain and gusty winds over Texas. Forecasters said Harvey is on track to become a Category 3 hurricane, bringing "life-threatening" amounts of rain and wind speeds of at least 111 miles per hour before it makes a landfall at Corpus Christi late Friday or early Saturday.
In Corpus Christi, Mayor Joe McComb has issued a voluntary evacuation order, Walmart shelves were being cleared quickly. The city administration cancelled Friday's dockets in the city court,CNN reported.
Hurricane Harvey was "dangerously approaching the Texas Coast" and expected to bring as much as 35 inches of rain and storm-surge flooding that could reach a depth of six to twelve feet along the coast, the National Hurricane Center said.
Conditions are "expected to deteriorate through the day," the center said. "Preparations along the middle Texas coast should be rushed to completion this morning.
While some coastal residents made their way out of the path of a hurricane and provided self-serve sandbags to residents who decided to stay to brace for a potentially life-threatening storm.Three Galveston-based cruise ships in the Gulf of Mexico diverted to safer water.
Hurricane-force winds are a concern as the storm builds strength in the Gulf of Mexico, and a potential deluge and subsequent flooding may be a big danger as well, according to meteorologists.
Hurricane Harvey is the first major hurricane to hit Texas in nearly nine years, labeled by forecasters as a "life-threatening storm," could bring up to three feet of rain, 125 mph winds and 12-foot storm surges.
Isolated tornadoes are possible on Friday across portions of the middle and upper Texas coast, the service said.
Texas Governor Greg Abbott has requested the activation of 700 National Guard members.Harvey is likely to bring multiple hazards, including heavy rainfall, storm surge and possible hurricane conditions to portions of the Texas coast beginning Friday," the National Weather Service said.
-ANI