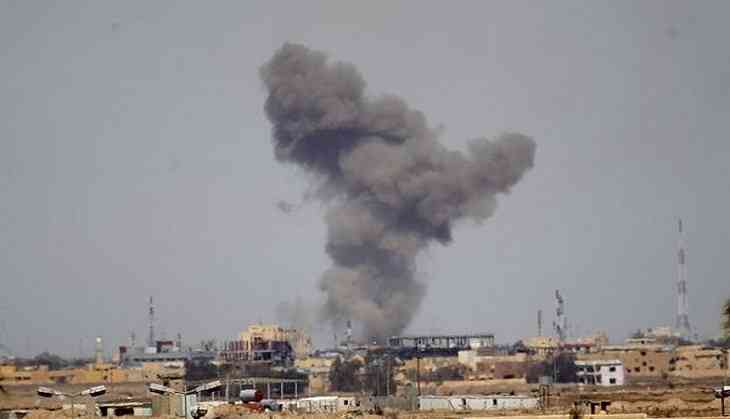 Hundreds of civilians have fled villages near the front line in Syria's Idlib province fearing an imminent regime assault on the country's last major rebel bastion, a monitor said Thursday.
Russia-backed government forces have been massing around the northwestern province for weeks, while on Wednesday Moscow carried out its first air strikes on the rebels in three weeks.
Late on Wednesday, hundreds of villagers abandoned areas in the southeast of the province that lie close to government-held territory, the Syrian Observatory for Human Rights said.
They were heading north towards rebel-held territory in neighbouring Aleppo province, the Britain-based monitor said.
"Around 180 families, or some 1,000 people" have hit the roads since late Wednesday, Observatory chief Rami Abdel Rahman said.
More than half of Idlib province is controlled by Hayat Tahrir al-Sham, a jihadist alliance led by Syria's former Al-Qaeda affiliate, while Turkish-backed rebels hold much of the rest.
Government forces recaptured much of the southeast of the province at the start of the year.
The United Nations has expressed fears that a full-scale offensive in Idlib could displace up to 800,000 people from their homes.
UN Syria envoy Staffan de Mistura has urged the major powers to intervene to prevent a "bloodbath".
On Friday, government allies Russia and Iran are to hold a Tehran summit with rebel backer Turkey that is expected to determine the future of the province. The UN Security Council is due to discuss the situation on the same day.
Successive rounds of peace talks have failed to halt the civil war in Syria, which has killed 350,000 people and driven millions more from their homes since it erupted in 2011.
Neighbouring Turkey, which hosts more than three million Syrian refugees, fears a new mass influx.
Turkey wants to "prevent attacks on Idlib", Foreign Minister Mevlut Cavusoglu said on Thursday, adding that it had "clearly told Russia" that its Wednesday air strikes were wrong.
-PTI