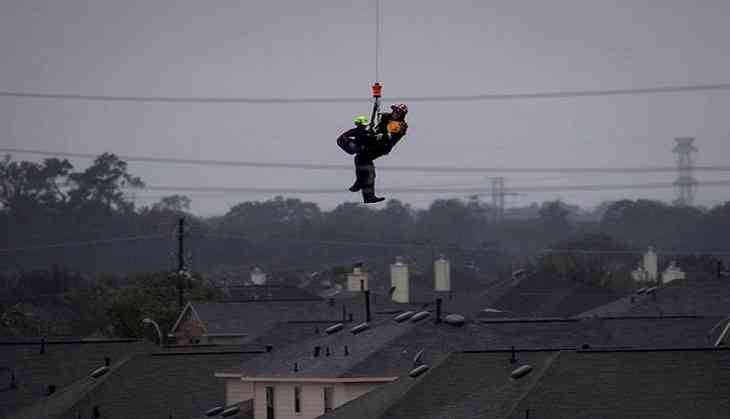 Houston imposes night curfew to prevent looting. (ANI)
Over 13,000 people have been rescued by the Federal and local agencies in Houston and the surrounding areas in the state of Texas since the catastrophic storm Harvey flooded the area, the heaviest tropical downpour in the history of the United States.
Meanwhile, Houston Mayor Sylvester Turner has imposed a curfew from midnight to 5 a.m. until further notice to prevent property crimes like burglaries and looting.
Since midnight 27 August, more than 2,300 calls have poured in to the Houston Fire Department, including 400 calls for rescue on 28 August afternoon, Houston officials said. Four people have died as a result of the catastrophic storm.
Even as darkness fell and the water level kept rising, the emergency officials in Houston continued fielding calls overnight from the flood-stranded Texans. Thousands have been rescued so far, many are still waiting to picked up.
Houston has been crippled by catastrophic flooding of dams, levees and volunteers scrambled to save the latest wave of tropical storm Harvey's victims amid word that a veteran Houston police sergeant drowned on his way to work.
Sergeant Steve Perez's body was recovered early 29 August.
The floodwater breached a levee in the county south of Houston.
Local rivers swelled to a major flood stage, county spokeswoman Sharon Trower said.
"The Brazos River is being pounded, and all of that water is coming down from the tributaries and creeks into the river," Trower said. "All the roads around us are flooded. We don't have any evacuation routes to tell people to take."
U.S. President Donald Trump met with officials in Austin and Corpus Christi and avoided the hardest-hit parts of Texas so that the rescue efforts are not hampered. The President wanted "to be very cautious about making sure that any activity doesn't disrupt the recovery efforts that are still ongoing," White House press secretary Sarah Huckabee Sanders said.
"The Coast Guard is continuing to receive upwards of 1,000 calls per hour," CNN quoted U.S. Coast Guard Lt. Mike Hart, as saying.
30 August alone, the Coast Guard has rescued over 3,000 people. "That includes both air rescues and rescues using boats."
Hart said the Coast Guard total includes rescues in Houston, but also in outlying cities and subdivisions outside of Houston, as well as in surrounding counties, including Brazoria, Galveston and Matagorda.
-ANI