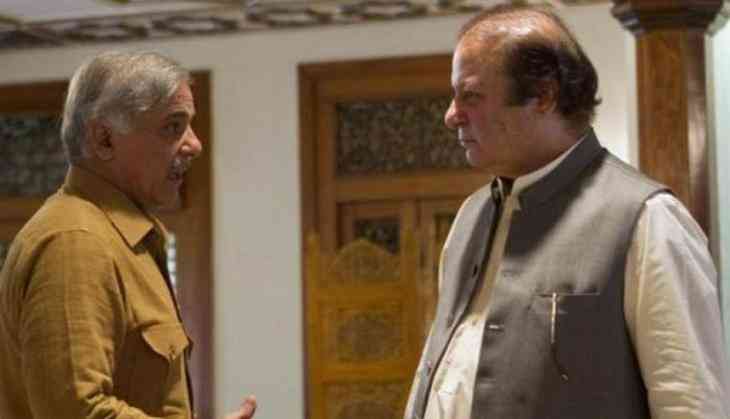 Growing dissent against Pakistan Prime Minister Nawaz Sharif is out in the open, as Pakistan Muslim League-Nawaz (PML-N) activists over the last few days have put banners in Lahore asking the former to resign and let his younger brother become the premier of the country.
The banners which are reflecting the sentiments of some PML -N activists have led to emerging of dissent in the party.
This comes at a time when speculations are high in favor of Shahabaz replacing the prime minister, in case the latter is disqualified in the aftermath of the Panamagate report submitted by the joint investigation team (JIT) to the Supreme Court.
."Janay do janay do Mian sahib (Nawaz Sharif) janay do, aur aanay do aanay do Mian Shahbaz Sharif ko aanay do (Mian sahib let it go (step down) and allow Shahbaz Sharif to take over the top slot)," the Dawn quoted the banner which were placed outside the Lahore Press Club as saying.
The party workers that installed these streamers were threatened, ridiculed and abused by other members of PML-N, the Express Tribune reported.
Soon after these banners got the electronic media's attention, they were immediately removed from sight.
According to one of the person who was involved in putting these banners and streamers said that Nawaz Sharif should step down after all the money laundering allegations to save the party and let Shehbaz replace him.
He claimed many in the party share their opinion, but lacked the audacity to voice their concerns.
On the other hand, these dissenting PML-N workers also got calls from fellow activists who appreciated their efforts to raise a voice.
Rumors have emerged that the ruling party is shortlisting the candidates for the slot of prime minister in case Nawaz Sharif is disqualified after a three-judge Supreme Court bench headed by Justice Ejaz Afzal Khan reserved its verdict in the Panama Papers case on Friday.
The names of Defence Minister Khawaja Asif, National Assembly Speaker Sardar Ayaz Sadiq and Petroleum Minister Shahid Khaqan Abbasi are doing the rounds for the PM slot for 45 days till Shahbaz Sharif is elected on a National Assembly seat to lead the government for the remaining term, reports the dawn.
If some reports are to be believed even Kalsoom Nawaz, wife of Nawaz Sharif, is also being seen as candidate for the top post.
-ANI