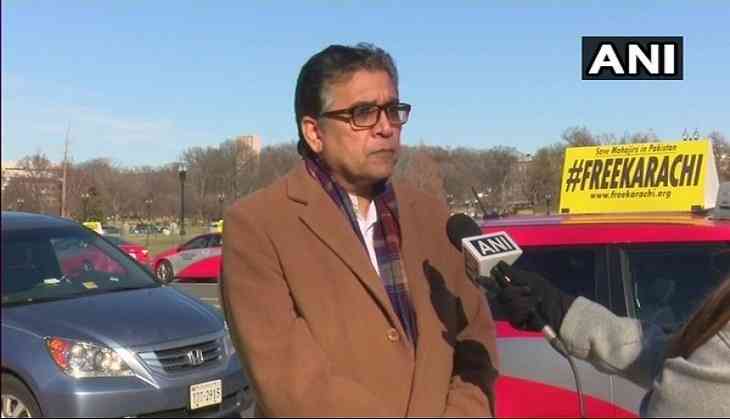 'Free Karachi campaign' (ANI)
Free Karachi spokesperson Nadeem Nusrat on Tuesday said that their campaign aims to draw the attention of the world towards Karachi as Muhajirs have never been accepted as citizens in the city.
"Muhajirs have never been accepted as citizens in Karachi. We're forced to live as third-grade citizens. Terrorists roam freely in Pakistan but Muhajirs don't have rights. We want to draw world's attention towards Karachi," US based former conveyor of Muhajirs told ANI.
Earlier on Monday, the Free Karachi Campaign went into its second phase in the United States.
As part of the campaign, nearly 100 taxis will run around the US capital with #FreeKarachi banners.
The taxi routes include important locations of the city such as White House, Capitol Hill, State Department and lawmakers' offices.
Since 1992, over 22,000 Urdu-speaking Mohajirs have been killed in urban Sindh by Pakistani security forces.
Since 2013 alone, hundreds of Mohajirs have gone missing and tortured dead bodies of Mohajirs are being routinely dumped in Karachi's outskirts.
While religious extremist outfits are allowed to freely preach their twisted ideology of religious hatred in Karachi under the protection of paramilitary rangers, the democratically elected mainstream political party of Mohajirs, Muttahida Qaumi Movement (MQM) is facing an announced ban on its activities.
Karachi, the city that alone generates nearly 70 percent revenue for Pakistan's national treasury and over 90 percent for Sindh province, has no representation in the national and provincial governments. The city's population exceeds the population of the rest of the Sindh province.
Another main issue that Karachi faces is its absolute absence in the city's law enforcement agencies. Its people are not accepted by the city's police and paramilitary rangers. The non-local law enforcement agencies treat Karachiites as the "people of occupied territory".
The citizens are routinely kidnapped and are only released after paying an extortionate amount. Those who refuse to pay or cannot afford to pay are either booked in fake charges or killed extrajudicially.
The term 'Muhajir' is used to describe the Urdu-speaking immigrants who left India in 1947 and came to Pakistan. A large chunk of them settled in the Sindh province.
Earlier in January, the first phase of Free Karachi Campaign was launched in Washington D.C. on Dr. Martin Luther King Jr. Day.
-ANI