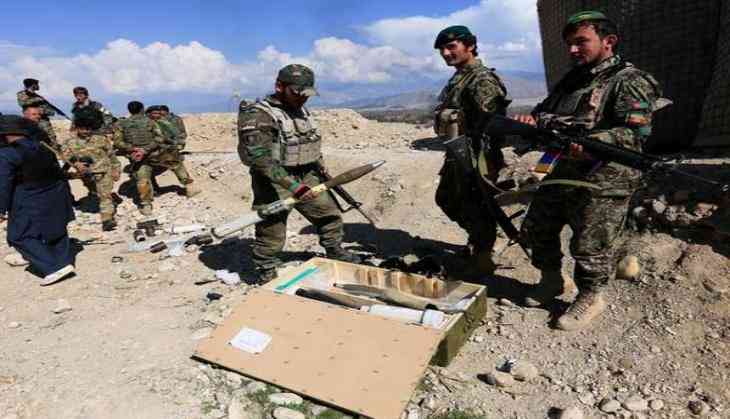 Former U.S. ambassador to Afghanistan James Cunningham has said any new American strategy with regard to developments in Afghanistan must aim to eliminate the Daesh and the Taliban as well as urge Pakistan to destroy safe havens provided to the Taliban and The Haqqani network.
He described President Donald Trump's decision of delegating authority to his Defense Secretary James Mattis for finalizing troop levels in Afghanistan as appropriate, but questioned whether the outcome would be productive and result-oriented, as past history did not reflect this.
He said that it is good thing that Washington is aiming to give the nation's army commanders "more agility" in conducting operations, adding that this was long overdue, especially when it comes to improving the security and stability Afghanistan.
"In particular, Washington must finally find a way to persuade Pakistan that the continued ability of the Taliban and The Haqqani Network to operate in and from Pakistan is no longer acceptable to the international community. The Taliban must conclude that it cannot win through violence; ending the conflict will be immeasurably more difficult if Pakistan continues to afford safe haven to the insurgency," Cunningham said
In an article carried by the National Interest magazine, Cunningham said there is no guarantee that America can "win" in Afghanistan, but it is quite clear that it can lose, adding that despite mistakes having been made in the past and present, there have been significant achievements gained.
Cunningham said the U.S. military effort, along with its coalition, had never aimed to defeat the Taliban but rather to push it back in key areas, degrade its operations and provides the time and space for the Afghan security forces to assume responsibility for protecting the Afghan people.
He said if the U.S is able to follow the above said strategy, "America and its allies will be on much sounder footing in Afghanistan and in the global confrontation with Islamist terror."
He went on to say, "There is no guarantee that the United States can 'win' in Afghanistan, but it is quite clear that it can lose, with grave consequences for American security."
He noted that since the 2014 draw down, the Afghan forces have done virtually all the fighting against the Taliban and work closely with the U.S in the fight against Daesh, al-Qaeda and other terrorist groups. Afghan forces were handicapped by uncertainty about U.S commitment, and by limited authorities for U.S commanders to bring critical air and intelligence capabilities.
Cunningham said, "Winning will require impacting the calculations of all parties involved and marshaling the instruments of military, political and economic power at the disposal of the United States and its international partners," Tolo News reported.
-ANI