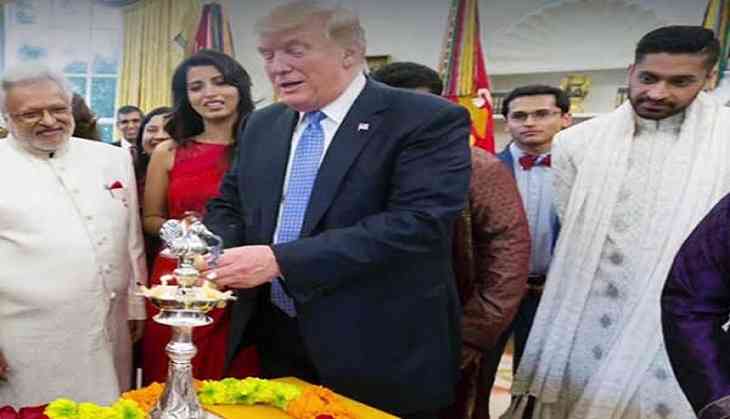 United States President Donald Trump celebrated the Hindu festival of lights- Diwali at the White House with Indian Americans on 15 October.
Trump lit the ceremonial lamp on the occasion and wished everyone happy Diwali.
Nikki Haley, U.S. Ambassador to the United Nations; Seema Verma, administrator of the Centers for Medicare and Medicaid Services; Federal Communications Commission chairman Ajit Pai; Vanila Singh, chief medical officer in the office of the assistant secretary of health at the Department of Health and Human Services; and other Indian American members of the Trump administration were present during the celebration.
Trump's daughter Ivanka also attended the festivities.
Trump on the occasion said, "Today, I was deeply honoured to be joined by so many administration officials and leaders of the Indian-American community - to celebrate Diwali -- the Hindu Festival of Lights."
"As we do so, we especially remember the People of India, the home of the Hindu faith, who have built the world's largest democracy. I greatly value my very strong relationship with Prime Minister Modi. Diwali is one of the most important celebrations in the Hindu religion," he added.
Acknowledging the contributions of the Indian American community, Trump said, "Our Indian-American neighbors and friends have made incredible contributions to our country - and to the world. You have made extraordinary contributions to art, science, medicine, business and education. America is especially thankful for its many Indian-American citizens who serve BRAVELY in our armed forces and as first responders in communities throughout our great land."
However, the Diwali celebration and diya lighting ceremony was closed for the media and the press.
Diwali, which is celebrated with great fervour and gaiety across India, marks the return Lord Ram, the King of Ayodhya in northern India, after his victory over demon king Ravana in distant Lanka, as well as the culmination of his 14-year-long exile. Lord Ram is widely regarded as the reincarnation of Lord Vishnu.
Diwali is also celebrated to honour the Goddess Lakshmi, the Hindu deity of wealth and prosperity and consort of Lord Vishnu. It is believed that the Goddess Lakshmi blesses those homes that are clean and well lit.
On Diwali people illuminate their houses with coloured lights and earthen lamps.
Known for embracing cultural and religious diversity, Prime Minister Trudeau had also recently celebrated and greeted the Muslim population in his country on the occasion of Eid al-Fitr in June this year.
He was wearing a pair of socks with text reading "Eid Mubarak," written on it, honouring the religious day that marked the end of Ramadan, the Islamic holy month of fasting.
-ANI