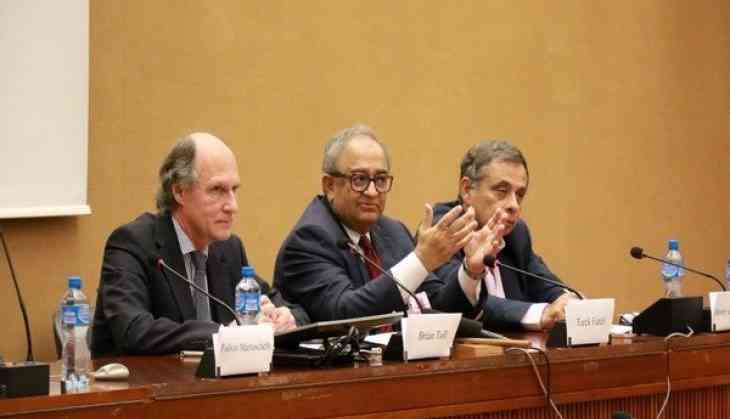 A conference on state-sponsored terrorism and political mainstreaming of terrorist groups in Pakistan were held at the United Nations Human Rights Council (UNHRC) on Friday.
The purpose of the conference was to draw the attention of the international community to the serious trend in Pakistan of the military establishment attempting to re-model proscribed terror groups as political entities.
The conference was moderated by Brian Toll, former Policy Coordinator for Asia at the European Commission, who in his opening remarks stated that Pakistan had gained a reputation in the international community as one nation that was in the forefront of sponsoring terrorism.
He added, the most concerning issue was that the Pakistani State and its institutions had lately been a mute spectator to a UN designated terror group, the Jamaat-ud-Dawa, not only floating a political party, named the Milli Muslim League, but even contesting elections to a few parliamentary seats.
Brian Toll further stated that it was well known that the Lashkar-e-Toiba and Jamaat -ud-Dawa were involved in terror activities including the Mumbai attacks, where a number of Europeans had been killed, and any forward movement on these groups taking over political power in Pakistan would have severe security repercussions internationally.
Speaking at the conference, Member of European Parliament Fulvio Martusciello charged Pakistan of a lack of commitment to tackling home-grown militants, and stated that in spite of international pressure, the situation has shown no improvement.
He informed the audience that for years Pakistan had been living in denial while allowing Islamic extremist groups to freely carry out their activities and raise funding in the country apart from radicalising the masses.
Martusciello said that now things had come a full circle with a designated terrorist joining politics.
It was high time that the European Union and the UN took stringent action against Pakistan, according to Martusciello.
Tarek Fatah, exiled Pakistani author of 'Tragic Illusion of Islam', speaking at the event stated that Pakistan, from its very inception, has been committed to promoting terrorism.
He elaborated that from sheltering Osama bin Laden, to having a connection with many of the terror attacks around the globe including explosions in Kabul, Pakistani intelligence agency's links to terror has come to the fore again and again.
Tarek Fateh also mentioned that "the doctrine of Pakistan is that if you don't adhere to their religion, you do not have the right to exist".
Henri Louis Malousse, 30th President of the European Economic and Social Committee, in his speech, stated that over the years Pakistan had received massive aid from the international community for its "War on Terror".
However, it was now obvious that Pakistan's efforts at fighting terror had been an eyewash and the country had continued to patronise terror groups for its strategic goals.
Malousse argued, if Pakistan had shown even some degree of seriousness to fight terror, designated terrorists like Hafiz Saeed would not roam freely on the streets of Pakistan.
He called on the international community to hold Pakistan responsible for using terror groups as proxies to further its own interests.
All speakers agreed that this dangerous trend of terror groups being gradually brought into the political mainstream at the behest of the Pakistani military establishment had to be nipped in the bud to prevent legitimizing of terror.
--ANI