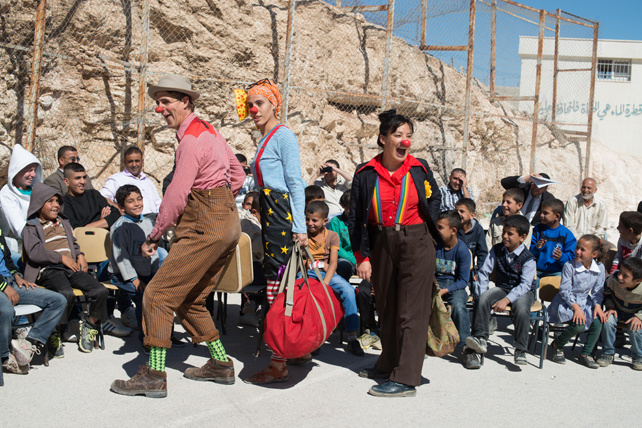 Meet Clowns Without Borders: A group of courageous circus artists entertaining refugees fleeing war.
From Haiti, Nepal and Guatemala to even Greece island of Lesvos, CWB team has visited most locations dealing with an aftermath of war, persecution or even natural calamities.
Clowns Without Borders was founded in Barcelona in July 1993 by Tortell Poltrona.
The age old adage, 'Laughter is the best medicine' is still reverberant in today's times for those fleeing war and displacement. But this very same proverb seems like a cruel mockery too, considering the nature of human suffering that follows a war.
To alleviate such misery and gloom and to spread happiness amongst refugee children, international group 'Clowns Without Borders' has been visiting countries and areas inhabited by such groups for the past twenty years and performing shows and acts of visual tapestries. Mind you, they've even been to Greece in 2015, when the entire refugee crisis situation grew hostile with European nations standing divided over accepting them.
Catch spoke to Molly Levine from Clowns Without Borders to get a better understanding of how the group fares so exceptionally well with humanity and the idea behind their campaigns that has been garnering international attention.
Vishal Manve: Can you give us a brief run-down on how Clowns without borders was formed?
Molly Levine: Clowns Without Borders was founded in Barcelona in July 1993. The idea began when Tortell Poltrona, a professional clown in Spain, was invited to perform in a refugee camp in Croatia. This performance unexpectedly attracted audiences of more than 700 children, proving to Poltrona that there is a great need for clowns and entertainment in crisis situations. He founded Clowns Without Borders to offer humour as a means of psychological support to communities that have suffered trauma.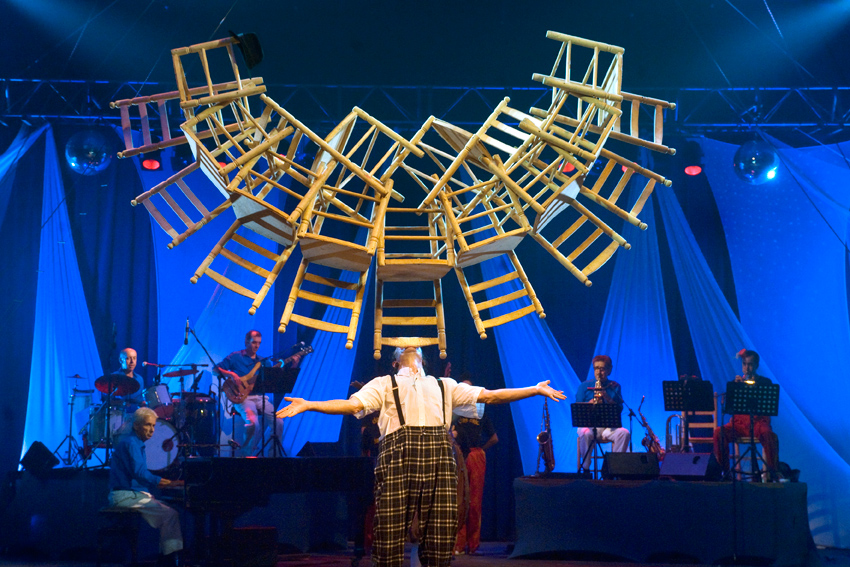 Tortell's real name is Jaume Mateu, a well known figure in Spain's Catalonia region. When he grew up during the rule of the Spanish dictator Francisco Franco, who died in 1975, laughter was a scarce commodity and clowns faced a lot of restrictions.
At home in Barcelona, Mateu founded Circ Cric and the Circus Arts Research Centre and worked with other famous clowns and artists, including Joan Mira and Joan Brossa. But, as a founder of Payasos sin Fronteras (Circus Without Borders), the 55-year-old has brought joy and happiness to thousands of young refugees and internally displaced people across the world.
VM: How many members are part of CWB? How does a typical day for the team look like?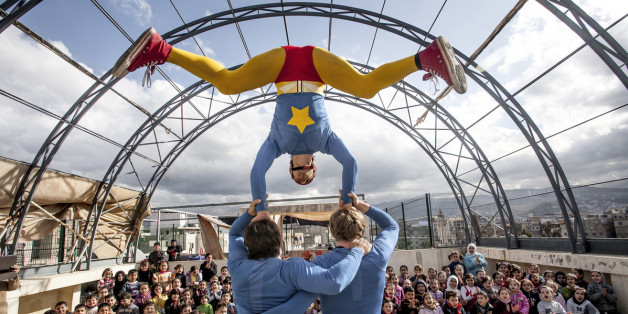 ML: We have 11 people on our board of directors, three part-time administrative staff, and a myriad of amazing volunteers (at least 5-10 folks) who work to support the clowns in various ways. There is no typical day.
We all work remotely, spread out across the USA, meeting with partners in different time zones via Skype, making fundraising strategies, hosting events, communicating with donors and supporters on social media. If you're asking about a typical day while on a project, that's a different story, and easier to discuss via Skype.
VM: Now, we know that your team visits refugee camps and difficult areas to entertain people. How difficult does the team find it to interact with marginalised communities considering a lot of children turn up at these events?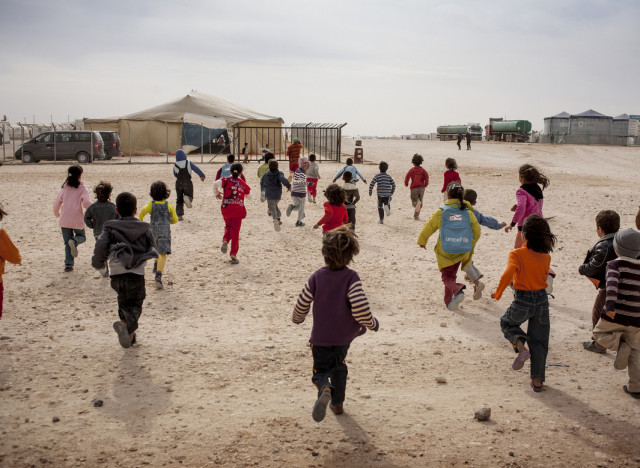 ML: We only go where we are invited, so normally we will receive an invitation from an organisation or individual, asking us to come to a specific area. After this happens we research the area to see who our audience is and decide if it's a viable place for a project.
VM: How many countries have you visited? Or precisely which all countries till date?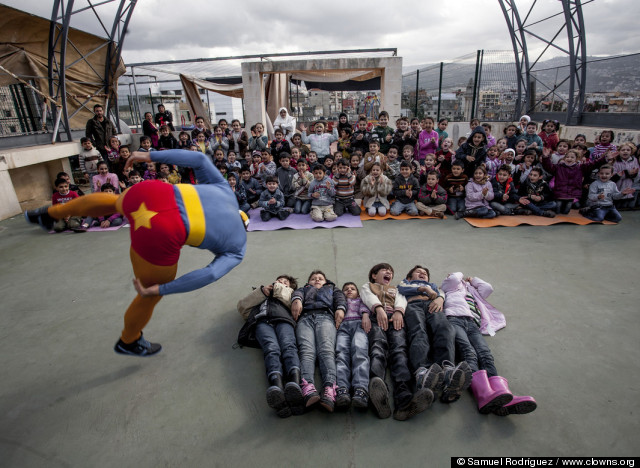 ML: The organisation is 20 years old and has worked in many countries around the world. From the Mexican state of Chiapas in 1998 to Guatemala in 2000, Nepal, Haiti and the very recent Greece and Turkey, CWB has visited more than 25 countries.
VM: You have visited refugees in Europe as well. How was the entire experience?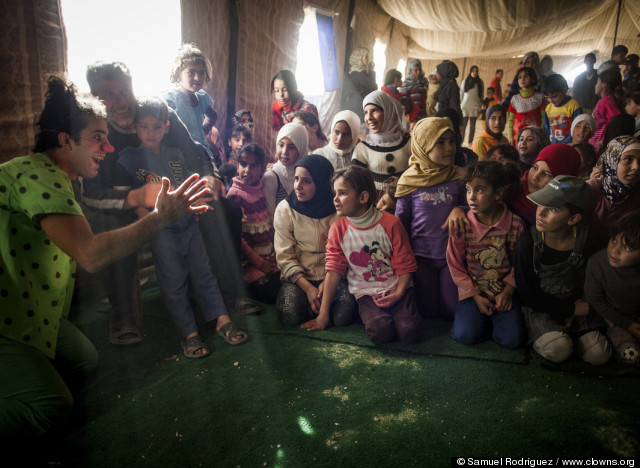 ML: On October 26, Clowns Without Borders USA performed a project on the Greek island of Lesvos, to support the influx of Syrian and other refugees who have been flooding the island to escape the perils of their countries, and seek a better, more secure life.
In Lesvos, the group had small group interactions, shows, songs, and magic tricks with children and families who were waiting to move on in their journey. Since the camps were all located along major roads and the island didn't have a venue for large-scale performance, this was a little different than our regular performance tour.
A small team of three performers and one logistical coordinator - Sabine Choucair, Luz Gaxiola, Clay Mazing - were sent to the location and they performed and played in three camps, in the north of the island where the rubber boats arrive, and in the harbor where up to 15,000 people wait daily for the ferry to Athens and the chance to continue their journey.
Here's what the team experienced during the journey:
Sabine Choucair, CWB Artist:
"Today while performing in the UNHCR waiting area of one of the camps, a 10-year-old kid was enjoying the show until he heard the sound of a helicopter. By pure coincidence, I was looking at him at that specific moment. His world collapsed, his smile turned into extreme fear, he looked at the sky then in no time put his and the two other kids' heads on the floor and shouted, "an airplane an airplane -hide hide!" But the other kids didn't understand why he was acting this way and they did not obey. That terrified him even more. He was shivering so much. I'm not sure if he knew the other kids or just felt responsible for the ones next to him at that specific moment. But what I am sure of, is that this kid saw all the airplanes that once flew over his house in Syria in one fraction of a second. At that specific moment I couldn't help myself from crying. I went and hugged him, the helicopter left. We continued the show and he smiled again. I hope it will be long before he hears such sounds again."
Molly Rose Levine, CWB Logistician
"One of the volunteers doing aid work on the island said that for the first time since arriving in Lesvos she cried out of happiness after seeing a show for the refugees. She has cried plenty since arriving, but never from joy until now. Huge thank you's from the clowns to all of the aid workers and volunteers doing great work. You make it possible for us to do our work."
Watch the video below:
VM: What is the motto of Clowns Without Borders?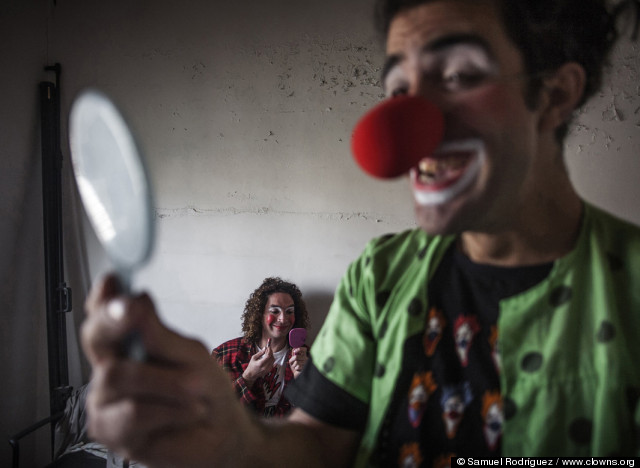 ML: Resilience Through Laughter is the motto of CWB-USA. No Child Without A Smile is the motto of the International project.
VM: You are a not-for-profit charity helping people in refugee camps deal with difficult situations. Does your team find difficulty procuring permissions for your activities?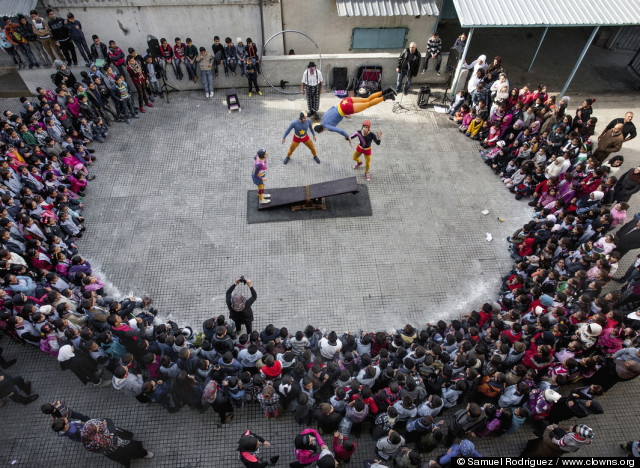 ML: Not really! Most people see the value of what we offer, and the change in the energy of a refugee camp when the clowns arrive is palpable. The camp leaders who I have spoken too have all been happy to receive us, asked us to come back as much as we can, and give us lots of freedom to interact with people throughout the camp.
VM: What all acts are part of your routine?
ML: Each tour performance is different, but the clowning style is classic physical theatre/Charlie Chaplin-style comedy. There are many classic physical theatre bits (Newspaper, Balloon Funeral, Dead or Alive) that you'll see in different CWB tours all around the world, but each performance is a mix of classic physical theatre bits and personal acts that each artist brings to the table.
CWB in India: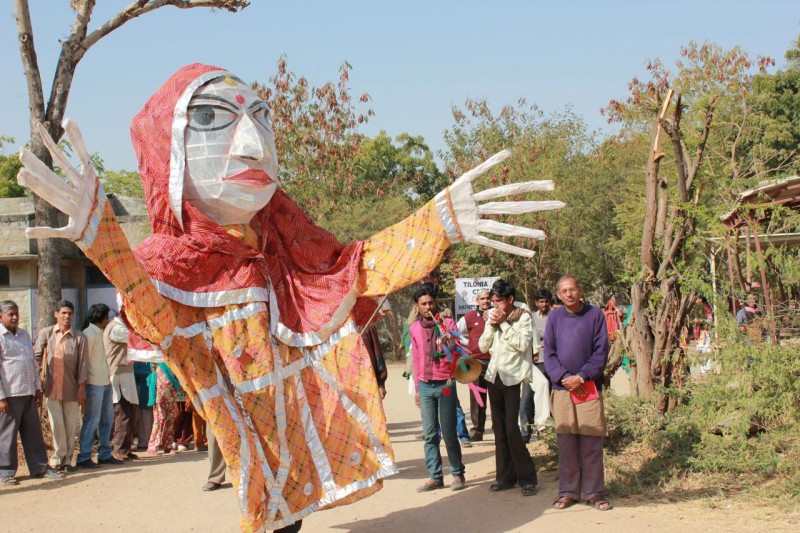 Project Purpose: The intention of this project was to work in areas within India that were crisis zones among populations of children that have been marginalised by society and living in extreme poverty.
The group had invitations from three organisations, including Mobile Creches, Salaam Baalak Trust, and The Tehelka Foundation.
In addition to working in Delhi, they worked in Jaipur and Tilonia, in Rajasthan. Here, they performed and provided workshops at the Barefoot College and Digantar, organisations working with rural children to sustainable solutions and education. They worked with children defined as juveniles living in observation houses and who were considered in conflict with the law.
They also worked with the Creches and Daycare Centres where they care for children of itinerant workers at construction sites and in slums.
Watch Video below:
All photos are courtesy Clowns Without Borders.