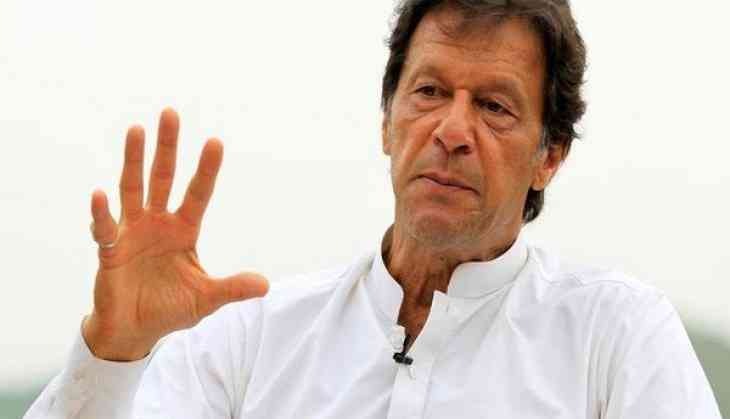 Pakistan Tehreek-e-Insaf (PTI) chief Imran Khan has criticized Prime Minister Shahid Khaqan Abbasi for meeting with the Chief Justice of Pakistan (CJP) Saqib Nisar, saying the former is trying to save former prime minister Nawaz Sharif.
Addressing a press conference with Balochistan Chief Minister Abdul Quddus Bizenjo in Quetta on Thursday, Imran accused Prime Minister Abbasi of working "on a one-point agenda for protecting Nawaz Sharif's theft."
According to Express Tribune, the former cricketer-turned-politician asserted that this is the first time ever in the history of Pakistan that a country's prime minister has not accepted the Pakistan Supreme Court's verdict on Sharif.
Continuing his tirade against Prime Minister Abbasi, Imran claimed that the former was protecting an individual who had amassed billions of rupees and purchased properties for his children, in an apparent reference to the Panama Papers case.
"Nawaz has been trying to fool the nation, fooling by quoting Joint Investigation Team (JIT) chief Wajid Zia that his name had not appeared anywhere in [the inquiry relating to] London flats and offshore companies case," said Imran.
"In reality, Maryam (Nawaz) is being tried in these cases and the question arises; where did she accumulate those billions?", he questioned.
In a series of tweets on March 25, Imran lambasted Prime Minister Abbasi for his recent remarks claiming that horse trading and money played a key role in the outcome of the recent Pakistan Senate election, which was held on March 3.
Last month, Sharif was disqualified from the post of ruling Pakistan Muslim League-Nawaz (PML-N) party chief by the country's Supreme Court, on grounds that a person disqualified under Article 62 and 63 of the Constitution could not serve as the head of a political party.
The top court also disqualified Sharif in the Panama Papers case last year under Article 62 of the Constitution for failing to declare a receivable salary as an asset.
--ANI
Also Read: 21 killed after bus catches fire in Thailand