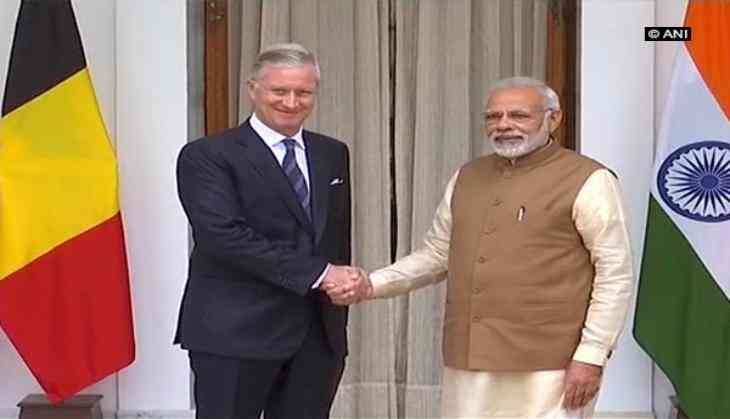 Belgium's King Philippe has met Prime Minister Narendra Modi here on 7 November.
Earlier today, Belgium's Royal Couple, King Philippe and Queen Mathilde received a ceremonial welcome at Rashtrapati Bhavan, here.
Belgium's King also met President Ram Nath Kovind in the presence of Queen Mathilde, Prime Minister Narendra Modi and other dignitaries.
Addressing the media at Rashtrapati Bhavan, Belgium's King said, "This (India) is a country we love very much, we have many friends here."
"Been here many times, even came here for our honeymoon. This time we are here for a state visit and we hope to improve very good contacts that already exist because I think in today's globalise world there's a lot we can do together," he added.
King Philippe and Queen Mathilde arrived in New Delhi for a seven-day visit on Sunday.
This is King Philippe's maiden visit to the country, following his ascension to the throne in 2013.
"The visit would further strengthen the historical strong ties between the two countries. Belgium was also among the first European countries to establish a diplomatic mission in India after Independence," a press release by Ministry of External Affairs stated.
India is Belgium's second largest export destination and third largest trade partner outside the European Union.
Also read: PM Narendra Modi: Media should focus more on Indians than politicians
In 2016-17, bilateral trade between the two nations amounted to USD 13.28 billion of which exports from India to Belgium accounted for USD 5.65 billion, while imports from Belgium accounted for USD 6.62 billion.
-ANI